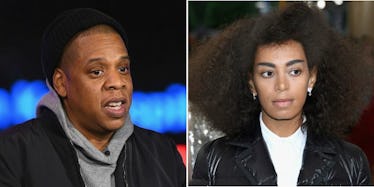 Here's What We Know About JAY-Z's Relationship With Solange Since The Elevator Fight
Dave Kotinsky/Getty Images for Spike and Dia Dipasupil/Getty Images For Entertainment Weekly
It was the elevator fight seen around the world. After the 2014 Met Gala, Solange, JAY-Z, and Beyoncé entered an elevator at the Standard Hotel in NYC. Security camera footage caught an enraged Solange kicking and punching her way towards JAY-Z, and arguably none of us have ever been the same. Now, fans are left wondering after everything that has since happened, are JAY-Z and Solange still fighting?
The question has been resurrected ever since JAY-Z dropped his latest album, 4:44. On it, he admits to everything Beyoncé accused him of in her masterpiece, Lemonade. Most notably, we're talking about the cheating allegations and Becky with the good hair. In his track "Kill JAY-Z," Jay raps the now famous lyrics,
You egged Solange on / Knowin' all along, all you had to say you was wrong
Hm. Sure sounds like an explanation of why Solange might have been, how do you say, upset with him. Elite Daily reached out to both Solange's and JAY-Z's teams, but did not hear back by the time of publication.
In the days following the video tape release, the entire family released a statement to show their unity. It said:
As a result of the public release of the elevator security footage from Monday, May 5th, there has been a great deal of speculation about what triggered the unfortunate incident. But the most important thing is that our family has worked through it. Jay and Solange each assume their share of responsibility for what has occurred. They both acknowledge their role in this private matter that has played out in the public. They both have apologized to each other and we have moved forward as a united family. The reports of Solange being intoxicated or displaying erratic behavior throughout that evening are simply false. At the end of the day families have problems and we're no different. We love each other and above all we are family. We've put this behind us and hope everyone else will do the same.
Additionally, since the incident, Solange, Beyoncé and Jay have come together for the large moments in one another's lives, including Solange's wedding just months later. Dressed in all white, Jay was photographed dancing and having a wonderful time alongside his sister-in-law and family.
Still, we can all agree 4:44 is a massive olive branch to more than one person, and hope whatever beef might still be lingering is finally put to bed.