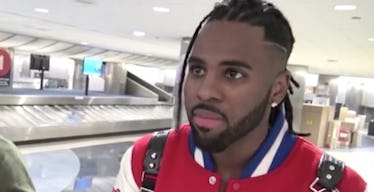 Jason Derulo Live Streams Almost Being Arrested Before Cops Realize He's Famous
Splash
Last night, Jason Derulo took to Instagram to describe an altercation that took place on an American Airlines flight earlier in the day.
He posted a photo of the man above and wrote,
@americanair I spent millions on your airline throughout the past ten years between myself and my entire staff but have still experienced racial discrimination today at the Miami airport!!! It's not ok that when you find out who I am the gears change! Fuck that!! I want answers
Apparently, this was in response to a dispute over baggage fees.
Derulo told People magazine an argument broke out about the timing of their check-in while preparing to fly to Los Angeles from Miami. A member of his staff allegedly had to take a later flight in order for all of the bags to be checked.
A source told People Derulo's friend tried to check in 19 bags, which would lead to an additional charge. According to the American Airlines website, even the most elite customers are allowed a maximum of three complimentary bags.
Things began to heat up after Derulo received a phone call from the friend they left behind, alerting him of the $4,000 charge for the extra baggage.
Derulo explained to People,
We'd never paid for our bags because of our status — with all of our miles — so we'd never paid for bags. So $4,000 is obviously a huge sum. We were like, 'No, we're not paying that. We've got to turn the plane around.'
With moments left before departure, Derulo and camp demanded the plane be returned to the gate, so they could all get off.
The singer said it was at this moment the captain and crew of the plane turned on him.
Derulo claims the captain came out and started cursing at him and demanding he get off the plane.
He explained,
And that was really upsetting to me because I felt like he was trying to make it seem like we were delinquents, and he was kicking us off the plane, when it was us that asked to get off the plane. I was like, 'Listen, sir, you're not going to talk down to me; I'm not your son. Don't talk to me in that tone of voice.'
When they got off the plane, Derulo says 15 police officers were waiting for him, which he called "super embarrassing."
So the star decided to do something. He explained,
As you can imagine, I'm surrounded by 15 police officers, I'm not going to curse back because I know what's going to happen. So I pick up my phone, and I go live on my Instagram.
He told People once he went live on Instagram, everything changed. The people around started realizing who he was and began to act differently. He said,
Every single person becomes somebody else, and all of a sudden, we're not in trouble anymore.
However, the police report describes the scene a little differently, with an airline employee saying Derulo and his group "smelled of marijuana and were getting aggressive."
The report also says the singer and his crew refused to give their IDs to the airline staff, and were generally uncooperative.
Derulo still maintains his treatment was racially motivated.
Citations: Jason Derulo Airport (People)