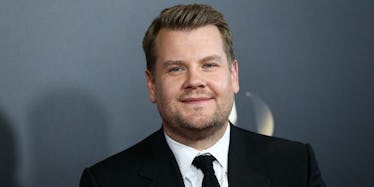 James Corden Sounds Terrified To Host Grammys In New Video: 'I'm Shaking'
REX/ Shutterstock
It's obvious James Corden is no stranger to showbiz, and his continuous success landed him the prestigious role as the host for the 59th Annual Grammy Awards.
Unless you're trying to avoid the whole "award show" thing (*cough, cough, Justin Bieber*), you know the Grammys are a HUGE DEAL -- like, the biggest deal of the year in the world of music entertainment.
Corden's well aware of the gigantic task at hand, and recently admitted he's nervous AF to host the show at the Staples Center in Los Angeles, California on Sunday night.
Deep breath in, deep breath out -- you have this, James!
In a video where he's being interviewed about the award show, James is full of anxiety and gets real about how he's actually feeling as the Grammys approach.
Talking to the Associated Press, he said,
I'm shaking just sort of thinking about the prospect of doing it. You know, I'm really going to try and do everything I can to make it all right.
Awww, James! Don't worry so much -- you're a pro! Just picture yourself in the front seat of a "Carpool Karaoke" ride and I guarantee your nerves will drift away (hopefully).
He continued with hesitation, adding,
I really feel nervous about it, I really do. I feel more nervous about this than I've ever felt for anything I've ever done before, truly.
ANYTHING?! Holy crap, talk about pressure. We're rooting for you, James!
Moments later, he talked about how different "The Late Late Show" is from the Grammy Awards and said there's going to be "quite a few more people watching it."
Well, yeah... I guess so. What's a few more million people, though, right?
The comedy star admitted his main goal for the night, saying,
We're really going to try are best to not ruin the whole thing. That's really our jumping off point is 'don't ruin it,' and I hope we can pull that off.
Something tells me he's going to be just fine.
Corden recently admitted he won't be singing at the award show, and that should take a little bit of the pressure off.
He told Associated Press,
There are a lot of brilliant singers there, and no one needs to hear me disrupt such beautiful vocals.
Whether he sings or not, I'm sure the crowd is going to love 'em.
If you want to catch James as the host for the 2017 Grammys, be sure to tune in Sunday for a night full of music -- here's how to watch.
Citations: James Corden admits he's 'shaking with nerves' about hosting the 2017 Grammys Read more: http://metro.co.uk/2017/02/11/james-corden-admits-hes-shaking-with-nerves-about-hosting-the-2017-grammys-6442083/#ixzz4YOuNeumA (Metro)