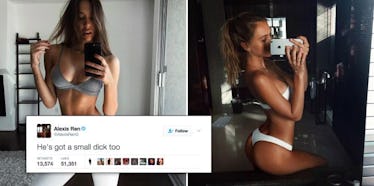 Instagram Model Alexis Ren Slams Ex's Penis Size In Savage Twitter Rant
Instagram/Twitter
If you're unfamiliar with ridiculously sexy Instagram model Alexis Ren, well, you're about to get very well acquainted.
Let's start from the beginning, shall we?
Apparently, Alexis Ren gained major internet fame when these vacation videos with her then-boyfriend, model Jay Alvarrez, surfaced on YouTube.
The above video, "Jay Alvarrez In California (Alexis Ren)," has amassed over 23 million views on YouTube. Once the 20-year-old Ren appears in the video, well, it's not hard to see why she became an internet sensation.
This woman is ridiculously hot. I'm talking slap-yo-momma hot.
Anyway, it appears it wasn't all perfect in paradise for Alexis Ren and Jay Alvarrez.
According to reports, the pair called it quits a few months back, but for whatever reason, Ren decided to wait until recently to go on a savage Twitter rant about Alvarrez.
Like, really, really savage.
Alexis Ren went right in on her ex, saying he was more of a "lesson" than a "soulmate."
Ren claimed her ex Jay Alvarrez "manipulated" her toward the end of their relationship.
Damn, Jay, did you really do Alexis Ren like this?
Hey, at least the 20-year-old model learned a valuable lesson at the end of all this, right?
OK, Alexis Ren definitely didn't hold back in her Twitter rant, but she didn't rip her ex's head off until she called him out for his "small" unit.
Game. Over.
Can we have a brief moment of silence for Jay Alvarrez's manhood?
Thank you.
Yeah, Alexis Ren really landed a low blow to her ex, but only they know if he really deserved it.
Personally, no matter how much I've been wronged, I'm not a fan of calling out an ex on social media.
Don't get confused, I'm happy as hell Alexis Ren did it, because I'm still laughing, but I don't think I'd ever do that to someone I had a relationship with.
Since she's already winning, let's all take some time and check out a few of Alexis' best Instagram posts!
It's too lit!
Citations: Hot Instagram Model Alexis Ren Just Publicly Called Out Her Ex-Boyfriend's Penis Size On Twitter (Bro Bible), @AlexisRenG (Twitter)