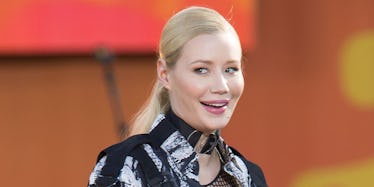 Iggy Azalea Has 'The Best Vagina In The World,' In Case You Were Wondering
REX/Shutterstock
In case you were unaware, Iggy Azalea is REALLY proud of her body.
The 26-year-old singer was just crowned the Woman of the Year at the GQ Australia Men of the Year Awards on November 16.
Instead of graciously accepting her award and unraveling a long list of supporters to thank for all of her success, she decided to confess to the entire universe that she has "the best vagina in the world."
I'm sure French Montana will agree.
Iggy Azalea offered comment to The Daily Telegraph after winning the Woman of the Year award, saying,
I've got the best vagina in the world. I have won a lot of awards over the last few years, but this one means the absolute most to me because I can finally say I have an award-winning vagina. This is amazing to me. I've got the best vagina in the world. How do you say no to that?... You don't.
Despite winning such a prestigious award at the GQ awards in Sydney, Australia, Iggy wants the world to know that not only does she have the "best vagina," but she's also not apologizing to anyone who gets offended that she no longer refers to Australia as her home.
Azalea spoke to GQ, revealing,
I don't know why people get so offended as it's not my home. I don't miss Australia... Emigrating when you're a kid is a defining moment of your life.
In other words, Iggy feels that she doesn't owe anyone a thing. Hey, it's hard to argue with that!
Aside from bragging about her lady parts and shunning Australia (so classy), Iggy also wore a head-turning outfit to the awards. The 26-year-old "Black Widow" singer sported an open blazer with nothing underneath.
Wearing outfits this revealing hasn't always been the case for Iggy. In the past, she's expressed being uncomfortable with her body and lacking confidence in herself.
In an interview with "Today Australia" last year, she explained,
I don't know. Some days I just think I want to crawl into a cave because I don't feel confident at all, and then other days I feel great. I think it's like that for all human beings, not just young women. I think feeling confident or 100 percent every day is something to aspire to, but I don't know if it's humanly possible for anybody.
Here's the full interview.
It's safe to say that's all changed for Iggy these days. She added,
I think it's just having that honest moment with yourself and other people and almost admitting and embracing your flaws or the things that you sometimes feel bad about can empower your own self.
Well, judging purely by her recent (and super honest) "vagina" comments this week, her confidence is sky-high.
Hey, does anyone know what Nick Young thinks about all of this?!
Citations: Iggy Azalea Says She Has the "Best Vagina in the World" (E! News)