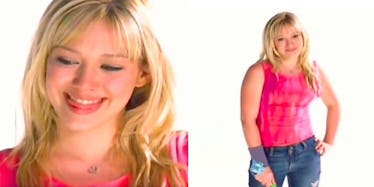 Hilary Duff Explains Why Those "You're Watching Disney Channel" Promos Were So Awk
Disney Channel
I'll be the first to say That's So Raven, Even Stevens, and Lizzie McGuire are iconic shows. TBH I doubt anyone reading this will disagree with me.
Perhaps even more iconic than those shows, though, are the Disney Channel promos that took place in between them during commercial breaks.
That's right, you know the ones I'm talking about. The ones where our fave stars like Hilary Duff, Miley Cyrus, and Selena Gomez were asked to draw mouse ears in the corner of our TV screens using a glow stick.
Well, by some grace of god, late last year, behind-the-scenes footage of the filming of these promos appeared online and we got to see Lizzie, Raven, and Beans giving us their best artistry while delivering the oh-so-catchy "Hi I'm [insert celeb name here], and you're watching Disney Channel" about 100 times each.
These promos seem to be the gift that keeps on giving, too, as Hilary Duff, while playing a round of giant Jenga/truth or dare with her Younger costar Sutton Foster, got dared to recreate her iconic commercial. Of course, her commentary is just what we needed to make our memory of the awkward commercials even better.
To no one's surprise, least of all her own, Hilary's magic wand drawing skills have not improved. She even talked about the first time she did it and why it was so awkward to film. She told BuzzFeed,
[T]hey made us do [the drawing] like 900 times. And I think I like lost all personality at that point.
She went on to give her fellow Disney Channel star some props, though, when she said,
But Raven Symoné was nailing it!
All I can say at this point is thank you, Disney, for the gift that is these original commercials, and thank you, Hilary, for recreating this magic for us today.