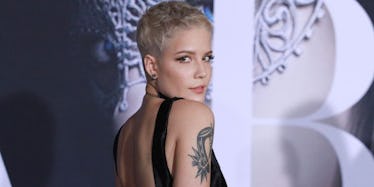 Halsey Wore A Belt As A Shirt To The iHeartRadio Awards, Showed Major Underboob
REX/Shutterstock
It's been an absolute pleasure watching the "Planet Earth"-grade evolution of breast accentuation on this year's award season red carpets.
We've seen cleavage. We've seen nipples. And we've seen underboob.
Award-winning singer Halsey has flirted with each of these busty concepts, leaving little to the imagination with her daring outfit choices.
At the iHeartRadio Music Awards, which took place on Sunday, March 5 at The Forum in Los Angeles, Halsey went with her boldest look of the season by simply wearing a belt as a shirt.
Before you scratch your head in skepticism, just think about how easy life would be if we all just said "F off" to the constraints of bras and shirts and followed Halsey's lead.
The future is female, and the future is all about the #beltop.
While her Versace top doesn't not look like a yellow version of the Hot Topic belts I wore during my angsty middle school days, Halsey fully pulls off the innovative rain-jacket-meets-athleisure-meets-Green-Day-meets-TLC-meets-underboob-meets-Big-Bird look with confident ease.
This is far from the first time the singer has dared to bare on a red carpet.
The 22-year-old rocked a '90s R&B inspired blue silk sweatsuit to this year's Grammy Awards, looking simultaneously comfortable and only semi-worried about a sudden gust of wind.
She basically started the underboob trend during her performance with The Chainsmokers at the 2016 Video Music Awards.
At tonight's iHeartRadio Music Awards, Halsey and The Chainsmokers took home the award for Dance Song of the Year for "Closer."
Halsey took this award season by storm, with Grammy nominations for Best Pop Duo with The Chainsmokers and Best Album of the Year for her feature on Justin Bieber's album.
In addition to taking home tonight's iHeartRadio Award, the pop singer was also nominated for Best Lyrics and Song of the Year for "Closer."