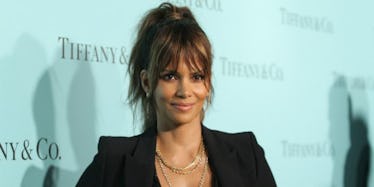 Halle Berry Said She'd Go Topless For Snacks, And The Offers Are Pouring In
REX/Shutte
Not to sound crass, but when I found out Halle Berry was topless in that one movie, I immediately went to my local video rental store and got a copy.
I sat through an hour and a half long movie about a whale in SeaWorld, and there was no mention or sign of Halle Berry.
WTF? Why would they say she appeared topless in it... And OK. I just googled it. I watched "Blackfish," the documentary about Tilikum, a captive killer, and Halle Berry was actually topless in "Swordfish."
I guess I should have been suspicious, but I just thought Berry was very passionate about animal rights.
Joking aside, Berry is a phenomenal, Oscar Award-winning actress who will, just like you and me, do anything for snacks.
She posted on Twitter a funny caption to a super sexy photo that has the internet screaming they will volunteer as tribute.
I am currently screaming, "I'VE GOT SNACKS," as I'm putting on my shoes, halfway out the door.
Imagine?!?! Texting Halle Berry,
Hey Hal! omw, bringing snacks. Should I pick up some wine?
And then opening the door, being, at first, blinded by the pool of light that escaped from her open doorway. As if she has the sun in her mansion. Halle Berry, in a see-through white lace cover up, slowly approaches you and takes the Red Vines from your arms.
OK, I gotta slow down. This is starting to become some really hot fan fiction.
Obviously, I'm not the only one vying for Berry's attention.
But whereas, Twitter is posting GIFs like this:
I have written an entire post dedicated to the fact I love you and pick the best snacks. Savory, sweet, sour -- I have it all, Halle!
After this year's Oscars, Berry also posted a video showing her taking off her dress and jumping naked into a pool...
Proving she is flawless and perfect and wants to marry me???
Citations: Halle Berry Goes Topless, But Only For Those Who Bring Snacks (People)