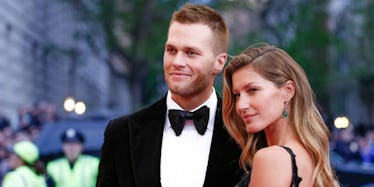 Gisele And Tom Brady Totally Shut Down Haters Criticizing Her Olympics Walk
REX/Shutterstock
Kill 'em with kindness, they say.
It's clear supermodel Gisele Bündchen and her NFL superstar husband, Tom Brady, embody this philosophy in light of people attacking Gisele's part of the Rio Olympics opening ceremony.
I, for one, thought her never-ending runway walk to the sweet sounds of "The Girl From Ipanema" was beautiful and a nice tribute to Brazil.
Of course, there were many people who saw the beauty that I saw.
Gisele final walk down a runway being at the Olympics is epic AMAZEBALLS! pic.twitter.com/n6tciQX5ek — Sara Jean Underwood (@SaraUnderwood) August 6, 2016
In fact, so many people were curious about Gisele's never-ending strut that she became the top-searched person in the world.
But apparently, according to Cosmopolitan, a lot of people on Twitter disagreed with my take on Gisele's walk and basically thought it was silly, overly long and just not really relevant to Brazilian culture.
Well, Tom Brady and Gisele couldn't care less what those people think. The day after the opening ceremony, Brady wrote the sweetest post for his wife on Facebook.
He said,
Congratulations Brazil on the incredible opening ceremony of the Olympic Games! Gisele, words can't describe how proud I was to watch you represent your country. I love you.
Awwwww, that's so nice!
Gisele also posted something on social media, and it's great; the Instagram photo she uploaded basically completely ignored any naysayers while subtilely addressing their criticisms.
She wrote in the caption, in both Portuguese and English,
It was very exciting to be part of this special moment. Everyone involved worked with dedication and passion to create a show that gave the world a glimpse of our history and Brazil's essence. It was beautifully presented. Our Brazilian community is hard working, cheerful, and welcoming. I believe that we showed the world the beauty of our diversity.
Yup, to translate that, she basically said, "I was honored to be a part of the ceremony, I worked with amazing, hardworking people, I am Brazilian so I can represent Brazil and everyone did an incredible job, soooooooo all you haters can go straight to hell."
OK, maybe I'm reading into her post a LITTLE bit, but her comments do basically address all the criticisms, so I can't imagine I'm too far off.
I guess we can chalk this up to haters gonna hate, lovers gonna love and Gisele and Tom Brady gonna keep doing what they're doing regardless of what people think, just as they've always done.
Citations: Gisele Bündchen Responds to Controversy Surrounding Her Olympics' Opening Ceremony Walk (Cosmopolitan)