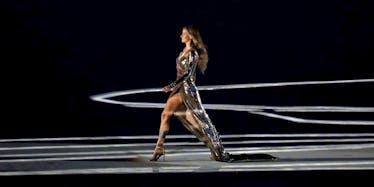 Gisele Bündchen Walked A Never-Ending Runway To Kick Off The Olympics
REX/Shutterstock
It's official -- the 2016 Olympic games have officially begun.
We only had to sit through eight minutes of Micheal Phelps and Ryan Lochte's "Carpool Karaoke," but we're FINALLY here.
Gisele Bündchen helped kick off the 2016 Rio Olympics' opening ceremony in style.
The 36-year-old Brazilian supermodel returned to her native country to kick off the games with a beautiful tribute as she walked across a never-ending runway.
The bossa nova classic "The Girl from Ipanema" played throughout the legendary Maracanã Stadium as Bündchen graciously showcased her beauty, wearing a floor-length gown designed by Brazilian fashion designer Alexandre Herchcovitch.
#GiseleBundchen brings the for the @Olympics #OpeningCeremony. pic.twitter.com/ZlZmlzIua8 — IMG Models (@IMGmodels) August 6, 2016
Herchcovitch spoke to Vogue about Gisele and her opening ceremony dress, revealing,
Gisele knows exactly what looks good on her and what doesn't, which makes the job much more objective and accurate. She was always present in the process. She gave important opinions, and we thought about the parts together. She made some important changes. Part of my creative process and development is to listen and adjust creations so she is satisfied.
We're all satisfied, Alexandre.
Gisele Bündchen had the internet wondering one more semi-important thing -- where is Tom Brady and does he know she's having THIS much fun?!
Regardless of the fact that Tom is thousands of miles away at training camp, we're just happy to see Gisele welcoming the Olympic games in Rio with pure excitement.
After all, over 11,000 Olympic athletes from over 200 countries flew in from around the world for this moment!
Just before taking the stage at the opening ceremony, Gisele posted a heartfelt Instagram explaining what the Olympics mean to her and the world.
Gisele, you CRUSHED it.
Now... Let. The. Games. Begin.
Citations: Gisele Bündchen Is the Girl From Ipanema as She Kicks Off 2016 Rio Opening Ceremony (E! News)