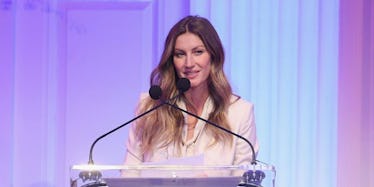 Gisele Bündchen Reveals Her Unusual Meditation Spot And Why You Should Try It
Getty Images
Gisele Bündchen is more than just a gorgeous supermodel who is married to Super Bowl champion Tom Brady. The 36-year-old mother of two is also well-known for her philanthropy efforts and environmental activism.
Gisele was honored on Tuesday at the David Lynch Foundation's Women of Vision Awards for her work as a "global difference-maker, promoting health, prosperity and happiness for the world family."
The David Lynch Foundation is dedicated to addressing the epidemic of trauma and toxic stress among at-risk populations through Transcendental Meditation, a practice Gisele has sworn by for years.
In her awards speech, Gisele spoke on the powerful impact meditation can have in all of our lives and about finding our life's purpose.
She said,
I experience life as magical and I have always wondered, 'How did life begin and what is my purpose?' In my search, I discovered meditation is a wonderful way to connect with our true essence. It helps us become more aware; it brings wisdom and healing. I have been meditating since my early 20s and I must say that words do not express enough the significance of its gifts in my life. Meditation has brought me clarity and peace through my most challenging times and it has helped me to know myself and to discover my purpose. I pray that meditation will do the same for all of you. No matter how challenging the lessons of life, we always have a place where we can go to find peace that's within ourselves. Our lives are sacred and each of us is a small but significant part of the whole with something special to contribute to make the world a better place. May we all remember who we truly are and why we are here on Earth so we can experience the joy of living our life's purpose.
During the Q&A portion of the program, Gisele revealed the most unusual place she's ever meditated is probably the back of a taxi, and she highly recommends it.
She explained,
You can be sitting in the taxi there for a while because of all the traffic, so that was an awesome place to meditate because it's like you're running late for something, you can't change the fact that you are stuck behind another thousand cars so just sit there and meditate... just make the whole ride... great.
Somewhat kidding, but also somewhat asking the question on all our minds, emcee of the luncheon Rosanna Scotto, co-host of "Good Day New York," prompted Gisele to talk about her meditation during the Super Bowl this year, which she mentioned on her recent appearance on "Jimmy Fallon."
Laughing, Gisele replied,
I don't want to take responsibility for the score, but it was definitely a very anxious time and since meditation has always been that special tool that I go to when I feel anxious or stressed... You know I couldn't go there and throw the ball... I just had to sit there and watch... I definitely took a deep breath and closed my eyes for a moment there and had a meditation. And it helped me, it calmed me down. And I have to say, I mean I'm not responsible for anything that happened in the game but it helped calm myself down... I felt better. That's the important part, I felt great.
It's highly unlikely any of us will find ourselves in a stressful second-half Super Bowl situation with our husband as quarterback, but we can all relate to feeling the stress of a traffic jam.
And while there were a few light-hearted moments of the afternoon, the life-changing impact of meditation on the lives of those who have suffered trauma was the reason everyone was in the room.
The awards luncheon raised funds to provide the stress-reducing Transcendental Meditation technique, at no cost, to 1,000 women and children in the New York City area who are victims of domestic violence and sexual assault.
Fellow Women of Vision Humanitarian Award winners Robin Roberts, co-anchor of "Good Morning America;" Carolyn Rafaelian, founder and CEO of ALEX and ANI; and Joni Kimberlin, philanthropist, filmmaker and activist also spoke on the importance of meditation and the very real way it can transform lives.
The most powerful portion of the event, though, was the presentation of the Courage Award to Latoya Mack, a veteran, artist and sexual abuse survivor. Her speech hit at the heart of the importance of Transcendental Meditation for survivors of sexual assault and domestic abuse. She said,
As a survivor of unimaginable physical and emotional abuse, gender-based violence and as a woman living with a disability as a result of my traumatic experiences, I take pride in knowing my successful journey to heal my broken soul is repeatable, achievable and possible for all women thanks to Transcendental Meditation.
For more information on Transcendental Meditation and the David Lynch Foundation, check out the website.