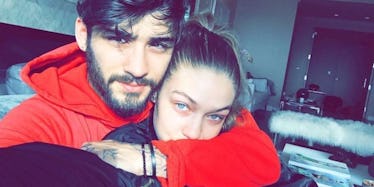 Gigi Hadid's Eyes Look Unreal In These Sweet New Photos With Zayn Malik
Snapchat/Gigi Hadid
Mere mortals have never been particularly gifted when it comes to discerning who's a witch… but Gigi Hadid is 100 percent a big-time spooky witch.
The proof? In recent pics shared by Gigi via Snapchat, she cuddles up to boyfriend Zayn Malik and attempts to enchant followers with her WITCH EYES.
Now, witch eyes aren't the only way to tell whether a woman is a bona fide necromancer from Witch Mountain, and they sure as hell aren't always easy to identify.
Witch eyes are the sort of phenomenon former Supreme Court Justice Potter Stewart would have pulled the "I know it when I see it" card on, and no one could even blame him.
Witch eyes reveal the well of powerful sorcery lurking beneath a gifted woman's corporeal surface. Sometimes, though, witch eyes aren't witch eyes at all.
Sometimes, they're just, like, weird-colored eyes.
So, naturally, that's the issue, here. Do we burn Gigi Hadid on a pile of logs while a priest throws holy water at her and spits the fire-and-brimstoniest Bible verses?
Or do we just kind of let her keep selling us expensive underwear and purses, hoping she never realizes the full extent of her power?
Look, I didn't want to have to do this, but here is rare footage of Gigi and her sister Bella summoning the spirit of Lucifer with ancient, tonally sinister incantations.
Feel free to compare their chanting to that of the Sanderson sisters from the 1993 supernatural documentary "Hocus Pocus."
Gigi's boyfriend, Zayn Malik, recently compared the couple's sex life to "Fifty Shades of Grey," which is cute, considering he is entirely under her spell and therefore her control.
The former One Direction member also told ES magazine his model girlfriend "knows how to carry herself," aka in midair, on a broom, soaring past the full moon.
Stay alert, Geeg fans/Zayn. Just because our girl hasn't tried to enslave the human race with centuries-old magic, doesn't mean she won't.