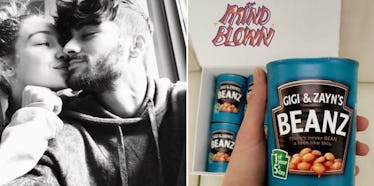 Gigi Hadid And Zayn's Relationship Was Compared To Baked Beans And She Loved It
Instagram/Snapchat
If I ever have a boyfriend in the future (pray for me), I hope one day he looks me in the eyes and says, "Babe, I want to eat you up like a can of baked beans."
OH YEAH, BABY. TALK DIRTY TO ME. That's every girl's fantasy, isn't it?
Well, Gigi Hadid had my dream come true and she's one lucky bitch.
The 21-year-old model recently admitted she loves eating baked beans for breakfast with her boyfriend, Zayn Malik.
In 2016, she told Evening Standard Magazine her man candy got her hooked on British cooking, so she loves cranking open a big ol' can of beans.
MMMM, BEANS.
Because Gigi loves beans so much, Heinz actually sent her a box of personalized beans for her and Zayn.
On Snapchat, she shared a picture of the can's label. It reads,
Gigi & Zayn's Beanz There's never BEAN a love like this.
LMFAO. THAT'S SOOOOOOO HOT. RELATIONSHIP GOALS. I AM SOOOOO JEALOUS.
OK, but, like, seriously... what the fuck is this?
I'd rather be sent literally anything than a can of personalized beans. Send me a dead animal in the mail, IDC. It's better than this shitty can of beans.
Speaking of Beans, I fucking love this kid. "Even Stevens" was the best Disney Channel show, don't @ me.
Gigi Hadid and Zayn Malik actually have a really sweet relationship, minus this dumb beans shit.
They take a lot of sexy pics and constantly remind me how single and alone I am.
ROMEO, WHERE YOU AT? COME FIND ME, BABY. HOLD MY FACE LIKE DIS. LOOK INTO MY EYES.
Gigi and Zayn make me want to cry into a pillowcase and throw up my entire breakfast at the same time. I've never met a couple who has that effect on me, so uh, bless you guys, I guess.
Gigi, I hope you have a great time with that box of beans. Cook them... eat them... smush them on your face.
Be creative, sunshine. You're amazing.
P.S. Sorry for everything.
Citations: Gigi Hadid And Zayn Malik Get Personalized Baked Beans (Refinery 29)