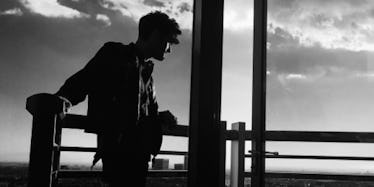 Gigi Hadid Posts Adorable Instagram For 'Handsome' Zayn Malik On His Birthday
Instagram
Gigi Hadid and Zayn Malik just continue to get cuter and cuter.
On January 12, the 21-year-old model posted a sweet message on social media to celebrate her boyfriend's birthday.
The former "One Direction" singer turned 24 this Thursday and Gigi Hadid decided to give him a special shoutout on Instagram.
Gigi posted a very artsy looking shot of Zayn Malik standing on a balcony, overlooking the city.
The photo was taken in black and white... which makes it like, 20 times more dramatic.
Gigi Hadid captioned the photo,
happy birthday my handsome! so lucky to know and love a soul like yours wishing you the best year ever!!!
I AM GOING TO THROW UP BECAUSE THAT IS SO CUTE. WHY ARE YOU SO CUTE, GIGI? WHY?
One day, when I have a boyfriend (in the far, distant future), I hope he posts cute photos of me lookin' this good.
I'm not the only one digging the picture. Over 700,000 people liked it and fans flooded the Insta with heart-eyed emojis.
Yeah, we literally ALL want to be ZiGi's third wheel. They're just perfect together, dammit. LET. ME. IN.
Fun fact: Zayn Malik's birthday comes just one day after Gigi's mama, Yolanda Hadid.
Yesterday, Gigi posted a sweet photo of her mother holding her in the snow when she was a toddler.
She captioned the pic,
To the most compassionate, supportive, loving, intelligent, creative SUPERmom in the world.. I am so lucky to have someone like you to look up to. Thank you for everything (especially @bellahadid & @anwarhadid), I love you so much! Happy Birthday!!!
Man, Gigi must have had a lot of birthday cake this week. Two major people in her life just turned a year older. It's party time, yo.
Happy birthday Zayn and Yolanda! Y'all better invite me to your b-day bashes or else.