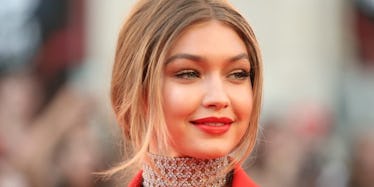 Gigi Hadid Got Her Own Barbie Doll And The Resemblance Is Actually Insane
REUTERS
If I was turned into a Barbie doll, it would probably have pizza stains all over its shirt and be too fat to fit in the palm of a first grade girl's hand.
However, when Gigi Hadid gets her own Barbie doll, it has gorgeous, highlighted hair and a wardrobe worth more than my entire life.
Ugh, models.
As you know by now, Gigi Hadid had her own plastic "mini-me" created and it seriously looks just like her.
I've never seen a doll based off a real person look so much like the person before. Like WTF? That's Gigi's exact face.
So what I'm trying to say is, props to whoever the fuck made Gigi's Barbie face.
The model revealed her new Barbie doll on Instagram the day before her Tommy x Gigi collection fashion show with Tommy Hilfiger.
What better way to promote the clothing than to feature it on a Barbie doll millions of little girls will see? GENIUS.
Obviously, Gigi Hadid's fans were loving the doll. People flooded her Instagram with heart-eyed emojis and hearts.
The photo already racked up over one million likes, so clearly people are digging it.
Damn, I can't wait to buy myself -- I mean, my niece... Charlotte... this new Gigi Hadid Barbie doll.
Oops, I spoke too soon.
According to E! News, the Barbie doll is actually not for sale.
I KNOW, I'M DEVASTATED. I MEAN, CHARLOTTE IS DEVASTATED. GET IT TOGETHER, CHAR.
Apparently, the doll is solely to promote Tommy and Gigi's second collection. Their show plans to turn California's Venice Beach into "Tommyland," featuring "amusement rides, local food trucks [and] musical performances."
The Barbie doll will hopefully get people pumped for that Southern Cali vibe.
Whatever, I'm over it, Gigi. I'll play with my Justin Bieber doll instead.
Citations: Gigi Hadid Barbie Doll (E Online)