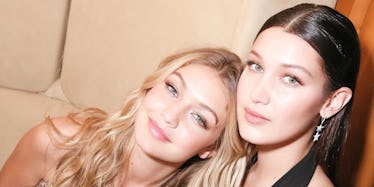 Gigi Hadid's Mashup Pic Of Her Face Combined With Bella's Will Blow Your Mind
REX/Shutterstock
Monday afternoon, Twitter user @gigimyfeels posted a picture of a Gigi and Bella Hadid face mashup.
The tweet received over 1,000 likes and even caught the attention of the one and only Gigi Hadid.
Gigi Hadid retweet and quoted @gigimyfeels' face mashup tweet and included a very cute caption for what might be considered a somewhat awkward picture.
Hadid wrote,
Sista sista.
@gigimyfeels tweeted the initial face mashup photo of Gigi and Bella Hadid, but who created this, uh, masterpiece?
Well, if you take a closer look at the mashup photo posted by this Gigi Hadid superfan, you'll see the picture has a watermark at the bottom which appears to contain an Instagram handle.
Naturally, I went on Instagram and searched the handle @morphy_me, and what I found might haunt me for the rest of my life.
Sure, the face mashup of Gigi Hadid and Bella Hadid is right there on @morphy_me's IG page.
But there are also hundreds of other celebrity face mashup photos apparently created by @morphy_me!
Going to this IG page is legit like being Arya Stark walking into the Hall of Faces in Braavos.
So, without further ado, check out some of the wild celebrity face mashups on this super weird Instagram account.
WARNING: You can't unsee these.
Speaking of Arya Stark, check out this face mashup of Maisie Williams and Alexandra Daddario.
Now that we have the ball rolling, here's a pretty awesome mashup of Cara Delevingne and Megan Fox.
If you saw "Rogue One: A Star Wars Story," then you'll love this mashup of Diego Luna and Gael Garcia Bernal.
Dane Dehaan and Andrew Garfield, anyone?
I'm more than a little creeped out, but we're in too deep to stop now. Here's one of Ryan Gosling and, yup, Ryan Reynolds!
The hits just keep on coming, this time with Karlie Kloss and Sophie Turner.
This face mashup of Lana Del Rey and Angelina Jolie is sure to haunt your dreams, but I'm going to put it here anyway.
If you're still with me, let's do one more for good measure. How about a four-way with Chris Evans, Chris Pratt, Chris Hemsworth and Chris Pine? You're so not ready for this.
That's all for me. I think I'm going to spend the rest of the day contemplating the true meaning of life.
Citations: Gigi Hadid (Twitter)