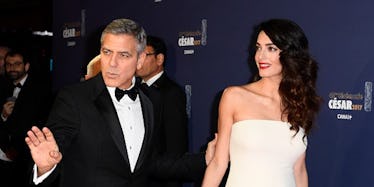 George Clooney Calls Out Paparazzi For Publishing First Photos Of His Twins
Francois Pauletto/Getty Images
George Clooney, international man of charisma and class, is not messing around this time. The actor and activist called out the paparazzi for taking illegal pictures of his newly born twins with wife Amal Clooney, and he is taking immediate action. Nobody takes photos of George Clooney's twins without asking first! The pictures were showcased on the cover of France's Voici magazine and the world is getting a peek inside the life of the superstar... without the family's consent.
George Clooney said in a statement to Elite Daily, "Over the last week photographers from Voici magazine scaled our fence, climbed our tree and illegally took pictures of our infants inside our home. Make no mistake the photographers, the agency, and the magazine will be prosecuted to the full extent of the law. The safety of our children demands it." Damn. Get it, George. Like I said, he is not messing around... not even a little bit.
The pics – which happen to be a bit blurry – show George and Amal Clooney each holding one of their new twins in their arms. According to the magazine, the pictures were taken in Lake Como, Italy, where the family owns a house. The paparazzi photos are the first pictures of the twins so far, even though an official image has not be released yet by the family.
George and Amal Clooney welcomed twins Ella and Alexander on June 6, and included the statement, "This morning Amal and George welcomed Ella and Alexander Clooney into their lives … Ella, Alexander and Amal are all healthy, happy and doing fine. George is sedated and should recover in a few days."
Of course, the release of the photos by Voici magazine is most likely devastating for the family. That being said, we are really, REALLY excited to see the baby photos... but legally.