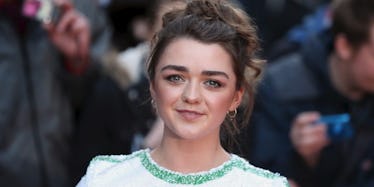 'GOT' Star Maisie Williams Is Most Relatable Celeb, Chugs Can Of Beer At Event
REUTERS
"Game of Thrones" star Maisie Williams proved she's the ultimate homie by showing up to a party with her own can of beer.
Someone must have sent out a BYOB memo.
The rising star was attending the launch party for Nest magazine -- "a collective of young creatives that connect the seemingly unconnected through artistic culture, good times and the original hip-hop dance style known as 'Bboying' (breakdance)" -- at the Wilton Way Cafe in London.
Earlier this week, Williams tweeted a flyer for the party to show support for her friends and encourage others to come out and do the same.
The 19-year-old actress was there sporting a pink satin two piece ensemble, a pair of black opaque tights and some tennis shoes to keep it casual.
These photos come just days after many in the "Game of Thrones" cast, most importantly Kit Harington, were spotted filming for season seven in Iceland.
The details of what's to come are usually kept under wraps, but "GoT" superfans have been disruptive by leaking photos of what seems to be some very important scenes.
The HBO series is notorious for keeping even the actors guessing, with many of the stars left unaware of their fate until right before they begin filming.
In an interview with Nick Grimshaw on "The Breakfast Show," Williams said she often has to monitor the things she says for fear of being overhead.
She continued,
We go out for a drink and discuss (what's going to happen) but we have to watch what we're saying because you don't know who is listening to your conversation. Because we've been on this show since the beginning you forget that it's become so popular. So when you're sat chatting about possible storylines you're like, 'Oh we better keep this quiet because people might actually think we know what's gonna happen even though we are speculating.'
But with only two seasons left, it seems impossible the show's longest lasting characters wouldn't have figured it out by now.
Especially when they tweet things like this:
Maisie you tease!
Guess we will just have to wait until "Game of Thrones" returns to HBO this summer.
Citations: Daily Mail