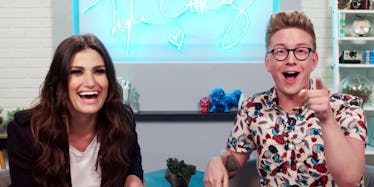 'Frozen' Star Idina Menzel Finally Picked A Disney Girlfriend For Elsa
YouTube
Earlier this year, controversy sparked when activists lobbied to make Elsa from Disney's "Frozen" a lesbian in the next installment of the film series.
Soon after the news got out, the hashtag #GiveElsaAGirlfriend began gaining traction on social media. Since then, fans began wondering whether Elsa is straight, lesbian or bisexual.
The topic of Elsa's sexual orientation has been rehashed after "Frozen" actress and Grammy award-winner Idina Menzel stopped by "The Tyler Oakley Show" for an interview.
It didn't take too long before Menzel's conversation with Oakley evolved from Donald Trump's sniffles to the topic of Elsa's sexual orientation and the possibility of it being revealed in "Frozen 2."
Menzel made sure not to label Elsa's character, but she did answer Tyler Oakley's burning question, "If Elsa were to have a girlfriend, any Disney Character..."
Tyler Oakley suggested Ursula and said that "love is love." He's not wrong, my friends.
After listing a ton of the different Disney princesses that exist, 45-year-old Idina Menzel finally revealed exactly who that lucky character would be...
*Drumroll, please.*
It's Tinkerbell!
Once Elsa's potential girlfriend was revealed, Oakley introduced Menzel to a game called "Menzel Rings A Bell."
The game required Menzel to identify the voice actor who played a variety of different animated characters.
As expected, she nailed most of them. In other words, she seems to know her sh*t when it comes to animated films and the actors behind their characters.
But I can't help but be a little upset at the fact that Tyler Oakley failed to ask Idina Menzel ONE MORE burning question... and it's actually quite simple:
Who would be the voice actor behind Tinkerbell's character if "Elsabell" were to get their very own reality show?!
Citations: Idina Menzel Chose Tinkerbell To Be Elsa's Girlfriend On The "Tyler Oakley Show" (BuzzFeed)