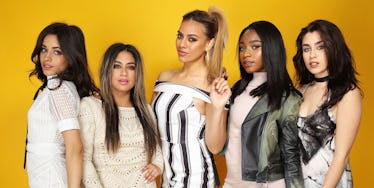 Fifth Harmony Talks About Being Nominated For A VMA Alongside Beyoncé
REX/Shutterstock
When Fifth Harmony released their hit song "Work from Home," my life was changed forever.
I listened to it nonstop in the car and requested it in every club and bar I entered.
It became the ultimate girl jam, something my friends and I would dance to while we pre-gamed our night out.
The lyrics just hype me up, man. SOMEONE SING IT WITH ME, DAMNIT:
YOU DON'T GOTTA GO TO WORK, WORK, WORK, WORK, WORK, WORK, WORK. BUT YOU GOTTA PUT IN WORK, WORK, WORK, WORK, WORK, WORK, WORK.
It never gets old. Bless you, ladies.
It's no surprise Fifth Harmony is nominated for Best Collaboration for "Work from Home" ft. Ty Dolla $ign at this year's MTV VMAs.
Back in 2014, the girl group took home the Video Music Award for Artist to Watch, so they've come a long way since that emotional moment. *Tears up*
Elite Daily was able to sit down with Normani Kordei to talk about Fifth Harmony's VMA nomination, their current partnership with BIC Soleil and what it means to be a young woman in the entertainment industry.
Normani first discussed how the group has been through a lot together, so it really meant the world to be nominated again for the VMAs. She shared,
It's really beautiful to see the difference between 2014 and where we are now in 2016 and how much we've grown. We've been through so much, we've really experienced everything with each other. We know each other's ins and outs. We've had trials and tribulations that we've definitely had to overcome.
Normani went on to talk about the importance of empowering women and the impact female role models have on their fans. She explained,
I think it's beautiful to see five women at this point in our careers be so successful together, and I think that really does speak volumes to the world. I'm so grateful to be at this point in our careers. The fact that we're even nominated in that category... Beyoncé is in that category. Rihanna's in that category. It's really crazy. Jut that in itself is an award.
So who does Normani look up to? When asked whom she'd love to collaborate with in the future, the Fifth Harmony singer didn't hold back. She said,
I would obviously love to collaborate with Rihanna, Nicki Minaj and Beyoncé. I love those women so much, and they have inspired me and driven me to be the best I can possibly be.
She continued,
When I think I'm working hard I'm just like, 'What would Beyoncé do? What has she done to get to the point that she is in her career?' She's everything I hope to be one day, so definitely Beyoncé. I think that's reaching pretty high, but hey, a girl can dream right?
After speaking with Normani, it makes sense why Fifth Harmony is partnered with BIC Soleil. The ladies teamed up with the razor company to discuss how shaving helps them become more confident and optimistic.
BIC Soleil actually ran a Real Life Optimism survey and found nearly one in two Millennial women surveyed said they felt more confident (47.8 percent) and sexy (43.5 percent) after shaving their legs.
On top of that, nearly one in three women said it made them feel more beautiful (33.1 percent) and happy (31.2 percent). THE STATISTICS DON'T LIE, PEOPLE.
According to the research, shaving makes a third of women feel happier than putting on makeup or whitening their teeth. THAT'S INSANE.
The BIC Soleil Shine is the newest razor for women, and Normani made it clear she's a fan.
My legs are hairy AF, so I'm all for anything to help me eliminate the fuzz.
I guess this Sunday when you check out the Fifth Harmony ladies on the red carpet, you'll know why they look happier and more confident than ever.
Congrats on your nomination, 5H! I'm rooting for you to take home the gold.
Now BRB, time to go shave my legs.