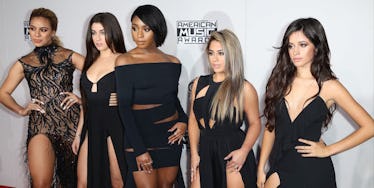 Fifth Harmony Shared A New Group Pic And Something Is Definitely Off
REX/Shutterstock
Fifth Harmony is going strong in the new year, even if they're leaving Camila Cabello behind.
The girl group shared their first official photo of 2017 on Fifth Harmony's Instagram page, and something definitely feels off.
Ally Brooke, Normani Kordei, Dinah Jane Hansen and Lauren Jauregui posed in front of the camera wearing matching red outfits in front of a red background.
They captioned the photo,
Twenty Seventeen
Oops, sorry Camila Cabello. It looks like the squad moved on without you.
As soon as the 19-year-old singer quit Fifth Harmony, everyone on Twitter made the same joke.
HAHA, GET IT? It's "Fourth Harmony" now... because there are only four members. Good one, you guys!
As previously reported by Elite Daily, the four remaining members issued a statement claiming they learned Camila was leaving the group from her representatives.
However, Camila fired back and said the ladies' accusations were false. In a letter to her fans, she wrote,
Saying that they were just informed through my representatives that I was 'leaving the group' is simply not true. Just like the other girls said in their statement about their plans, I had also planned to continue with my own solo endeavors in the new year but I did not intend to end things with Fifth Harmony this way.
She concluded the message by wishing Ally, Normani, Dinah Jane and Lauren the best and told her fans she hopes to "lead by example." She said,
As sad as it is to see this chapter ending this way, I will continue to root them all on as individuals and as a group, I wish nothing but the best for them, all the success in the world and true happiness. Just as I said to them during those conversations, and just like I try to encourage you guys, I just want to lead by example when I say to each of you guys to be courageous in the pursuit of what makes your heart pound and what makes you come alive with purpose.
So, what's next for the singer? Well, according to the post she hopes to pursue her solo career. She shared,
Next year I will be working on my own music and giving you a big chunk of my heart... I have always encouraged you to be fearless, to live your life in the name of love and to do what makes you happy…. As scary as it is to take the leap, I am excited and full of joy because I know that no matter what happens, I am following my heart. I hope to see you on my journey.
You can read Camila's full message below.
Camila, I wish you good luck on your new journey. And Fifth Harmony? Uh, are you guys gonna change your name or what?
Citations: Fifth Harmony Without Camila Cabello (Entertainment Tonight)