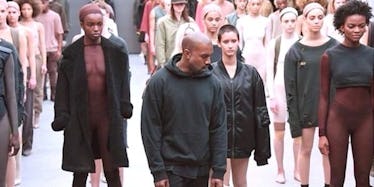 11 Things You Need To Know About Kanye's Adidas Fashion Show
Twitter
Yesterday at NYFW, Kanye debuted his new line with Adidas.
There has been a lot of good, old Kanye ranting about the collaboration and "next-level creative genius" over the last few months.
Though we're hesitant to give the man any more credit than he gives himself, Kanye did not disappoint his audience.
After his 2011 Dw Kanye West fashion failure, Kanye's debut #YeezySeason earned him some stylish street cred.
After all, fashion icon Anna Wintour even found the time to show front-row face.
Here's everything need to know about Yeezy's big show.
1. North West was a toddler, acted like toddlers do.
This is the best #YEEZY#NYFWpic.twitter.com/p7oF5JMlPR — Madelyn Chung (@madelynchung) February 13, 2015
Some called it a "public meltdown." Others called it a "full-on sh*tfit." We just call it being a toddler, guys.
2. No one wore pants...
3. ...Except Kim, who wore some overgrown underwear Kanye designed for her.
4. It looks like Anna Wintour threw Ye some Anna Wintor-style shade.
Rumor has it Anna didn't stand for Yeezy's big standing ovation. Then again, the only thing Anna stands for is wearing sunglasses indoors, so...
5. Yeezy showed fashion is all-inclusive and left no shape, size or color from his ranks.
Honestly, thank Yeezus.
6. Diddy, RiRi, Cassie, Bey and Jay sat front row.
7. Nori was the most stylish person at the entire show. Look at that outfit.
Gorgeous photo of Kim Kardashian and daughter North playing front row #NYFW @kanyewest x @adidas #YEEZY pic.twitter.com/67ocTT7ykb — Getty Images VIP (@GettyVIP) February 13, 2015
8. Head-to-toe pantyhose is clearly having a major moment.
9. In a move that surprises exactly no one, Yeezy wore a hoodie.
10. The Kardashian sisters came Kolor Koorindinated and dressed the same.
11. Kanye spoke about his upcoming line to MTV. Insightful, or nah? You be the judge: