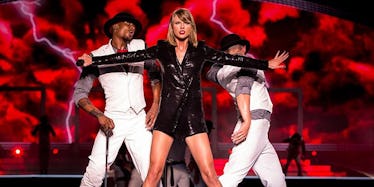 Everyone's Asking The Same Question After Taylor Swift Dropped "Ready For It"
Christopher Polk
Literal seconds after dropping "Ready For It" during a college football face off between the No. 1 and No. 3 ranked teams, fans have taken over the internet looking for the answer to one simple question: when will Taylor Swift's "Ready For It" be released? The singer dropped the song as a complete and total surprise on Saturday, Sept. 2, and exactly no one was ready for what came next.
Earlier in the day on Saturday, Sept. 2, Swift attended a wedding as a bridesmaid for her best friend Abigail Anderson in Massachusetts. A source at the Cape Cod nuptials reportedly told PEOPLE that Swift "looked gorgeous," with "dark red lips, and carried her friend's train as they went into the church. Security asked the crowd not to rush her." It's pretty badass, don't you think? Walking in a friend's wedding like it's nothing, all while knowing that you're going to send the internet into a frenzy in a few hours when you subtly drop a one-minute intro to all-new music? I'm not a Swift fan (we can't all be heroes, OK?), but I'll give credit where credit's due: Swift had us all looking one way, and boom, out of nowhere, we had to learn to pivot.
As it stands, there's no official, official release slated for "Ready For It." Hell, we're not even sure this is her next single. I mean, for all she's given us, "Ready For It" just could be a song she created in collaboration with the NCAA for college football season. Or maybe "Ready For It" is THE song to end all songs. At this point, I'm just trying to be ready for anything, you know?
The singer hasn't tweeted anything since Aug. 27, when she took to the social media platform to share the video for "Look What You Made Me Do," after it first debuted at the MTV Video Music Awards.
Elite Daily reached out to Swift and her team for details on the official "Ready For It" release, but had yet to hear back at the time of publication.
I guess we'll all have to wait till next week's football game to find out?