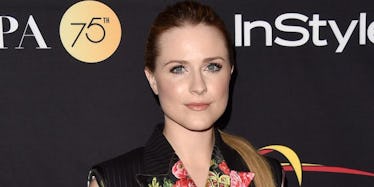 Here's Evan Rachel Wood's Relationship Status After Her Breakup With Her Ex
Alberto E. Rodriguez/Getty Images
TV's biggest night is coming up this Sunday! Fan favorite Evan Rachel Wood is nominated for an Emmy for her performance in HBO's Westworld, and there are lots of people gunning for her to take home the award. The 2017 Emmy Awards is set to air Sept. 17, at 8 p.m. on CBS and will be hosted by none other than Stephen Colbert! In 2011, Wood was nominated in the Outstanding Supporting Actress In A Limited Series or Movie for her performance in Mildred Pierce alongside Kate Winslet, but this is her first nomination in the Lead Actress category. But you might have seen Wood in the news for other reasons recently. On Thursday, Sept. 7, news broke that Wood and her fiancé Zach Villa have called off their engagement. So fans are wondering: Is Evan Rachel Wood single? Yes, definitely so. Unless she and Villa decide to get back together, I imagine she is very single right now.
According to People, Wood and Villa called off their engagement about a month ago. Villa is a musician who reportedly popped the question to Wood back in Jan. 2017. They first met in 2015 at a John Hughes-inspired cabaret in LA, and then combined forces to make the electro-pop duo, Rebel and a basketcase. Wood was previously married to actor Jamie Bell for two years before they got divorced in 2014. They have a 4-year-old son, whose name they've never revealed to the public.
In Feb. of this year, Wood got real about her sexuality (she's bisexual) in a moving speech when she was awarded the Human Rights Campaign's Visibility Award. She said in the speech,
I didn't realize that there was anything that would have been considered different about me until I was 12 years old – right around when puberty and sexual feelings start to take over – and I felt something that I couldn't explain. I thought women were beautiful, and I realized I had always thought women were beautiful. But because I was born that way, I never once stopped to think that was strange or anything to fear.
Although she knew when she was young that she had feelings for women and men, she "buried those feelings" after hearing so much hate speech toward the LGBTQ+ community. She continued,
But because of the voices I listened to, because of the people I identified with, the films I had watched, the music I had heard, because of words like 'bisexual' and the doors that it opened, I'm still here — and I didn't miss out on the most beautiful thing I've seen yet, and that was my son.
You can check out the list of Emmy nominations you care about here:
Outstanding Drama Series
Better Call Saul House of Cards Stranger Things The Crown The Handmaid's Tale This Is Us Westworld
Outstanding Comedy Series
Atlanta black-ish Master Of None Modern Family Silicon Valley Unbreakable Kimmy Schmidt Veep
Outstanding Limited Series
Big Little Lies Fargo Feud Genius The Night Of
Outstanding Lead Actor In A Drama Series
Sterling K. Brown (This Is Us) Anthony Hopkins (Westworld) Bob Odenkirk (Better Call Saul) Matthew Rhys (The Americans) Liev Scrieber (Ray Donovan) Kevin Spacey (House of Cards) Milo Ventimiglia (This Is Us)
Outstanding Lead Actress In A Drama Series
Viola Davis (How to Get Away With Murder) Claire Foy (The Crown) Elisabeth Moss (The Handmaid's Tale) Keri Russell (The Americans) Evan Rachel Wood (Westworld) Robin Wright (House of Cards)
Outstanding Lead Actor In A Comedy Series
Donald Glover (Atlanta) Zach Galifinakis (Baskets) Anthony Anderson (black-ish) Aziz Ansari (Master of None) William H. Macy (Shameless) Jeffrey Tambor (Transparent)
Outstanding Lead Actress In A Comedy Series
Pamela Adlon (Better Things) Tracee Ellis Ross (black-ish) Jane Fonda (Grace And Frankie) Lily Tomlin (Grace And Frankie) Allison Janney (Mom) Ellie Kemper (Unbreakable Kimmy Schmidt) Julia Louis-Dreyfus (Veep)
Outstanding Supporting Actor in a Drama Series
Jonathan Banks (Better Call Saul) Mandy Patinkin (Homeland) Michael Kelly (House of Cards) David Harbour (Stranger Things) John Lithgow (The Crown) Ron Cephas Jones (This Is Us) Jeffrey Wright (Westworld)
Outstanding Supporting Actress in a Drama Series
Uzo Aduba (Orange Is the New Black) Millie Bobby Brown (Stranger Things) Samira Wiley (The Handmaid's Tale) Ann Dowd (The Handmaid's Tale) Chrissy Metz (This Is Us) Thandie Newton (Westworld)
Outstanding Supporting Actor in a Comedy Series
Louie Anderson (Baskets) Ty Burrell (Modern Family) Alec Baldwin (Saturday Night Live) Tituss Burgess (Unbreakable Kimmy Schmidt) Tony Hale (Veep) Matt Walsh (Veep)
Outstanding Supporting Actress in a Comedy Series
Vanessa Bayer (Saturday Night Live) Leslie Jones (Saturday Night Live) Kate McKinnon (Saturday Night Live) Kathryn Hahn (Transparent) Judith Light (Transparent) Anna Chlumsky (Veep)