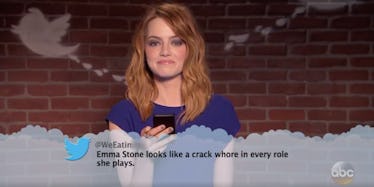 Emma Stone Gets Called Out For Doing Crack In Hilarious Oscars 'Mean Tweets'
REX/Shutterstock
Someone let Twitter know Emma Stone isn't a crack whore.
Jimmy Kimmel hosted this year's Oscars, which means we got a special version of "Mean Tweets" in honor of Hollywood's biggest night.
Is this one of the more brutal editions of the "Jimmy Kimmel LIVE" staple?
During the Oscar edition of this JKL bit, Ryan Gosling, Natalie Portman, Emma Stone and other stars got a chance to read some of the meanest tweets around about them.
One tweet read by Samuel L. Jackson said,
Samuel L. Jackson has resting fart face.
A tweet that is both brutal and not 100 percent wrong.
Another tweet, this one read by Jessica Chastain, reads,
I'm going to white balance my TV on Jessica Chastain's chest. #Oscars
A tweet that, once again, is both brutal and not 100 percent wrong.
The one tweet that may have gone a little too far was read by Emma Stone.
The tweet reads,
Emma Stone looks like a crack whore in every role she plays.
How dare you sa -- OK, maybe also not 100 percent wrong. Not the whore part but, like, I don't know. Those eyes are too massive to not be hiding a butt-load of crack.
It is not uncommon for award show hosts, who tend to be late night show hosts, to make special award show versions of their best TV bits. It's almost mandatory at this point in order to make sure sections of the show go somewhat viral.
James Corden did a quick version of "Carpool Karaoke" at this year's Grammy awards, and Blue Ivy decided she wasn't just going to let an installment of "CPK" happen in front of her without getting a little stage time.
STEAL WHAT IS YOURS, BLUE IVY!
Just to recap:
Samuel L. Jackson looks like he wants to fart.
Emma Stone is not a crack whore... but we get it.
DON'T EVER INVOLVE AN AWARD SHOW BIT WITHOUT BLUE IVY.