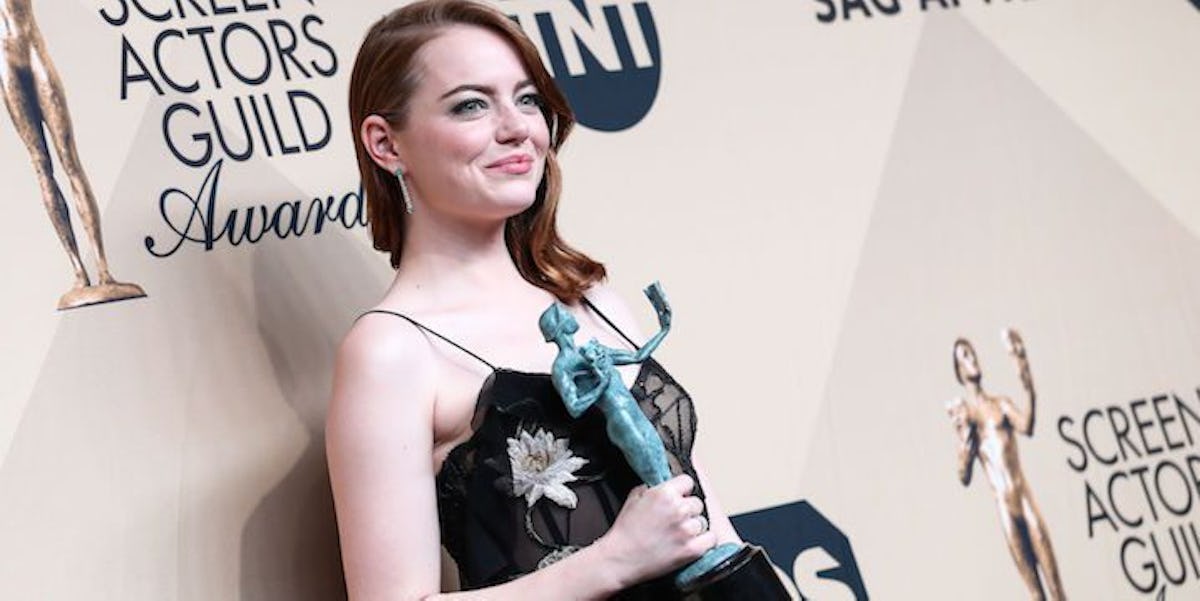 Emma Stone Struggling Through SAG Awards Speech Is Cringeworthy Yet Adorable
REX/Shutterstock
No matter how flustered you get in life, you will probably never be Emma-Stone-recieving-a-SAG-Award-level flustered.
It's gonna be a big few months for Emma Stone. The 28-year-old "La La Land" star is expected to clean up during this year's award season, starting off her march toward Hollywood supremacy last night by taking home the SAG award for Outstanding Performance by a Female Actor in a Leading Role.
If there is one bit of advice we can all give her going forward, it's that she needs to practice getting her shit together before going on stage to accept her trophies.
After having her name called for the award during last night's honors, she started off her acceptance speech on a strong-ish note, joking,
Wow. To be an actor playing an actor receiving an actor by a guild of actors is pretty exceptional...
Then she realized they were timing her and things started to fall apart a bit, as she confessed to the audience,
Oh, it's counting me down. OK. I've forgotten everything I've ever thought in my life.
After that Emma started to gain composure, thanking Damien Chazelle, the writer/director of "La La Land," and her co-star Ryan Gosling.
She then proceeded to thank the other women in the category who were nominated: Meryl Streep, Natalie Portman, Amy Adams and Emily Blunt.
Then things began to fall apart again. As she realized they were counting her down again, she comically ended her speech by going,
Please wrap up! OK, I was just going to say I feel pretty insecure a lot of the time.
The line got an audience laugh and she finished off her speech by thanking everyone in the room who continues to make art during these hard times we're in.
The adorable moment wasn't done though, as Stone had a mini "Superbad" reunion moment with Jonah Hill on stage.
Get ready for the year of the Emma.