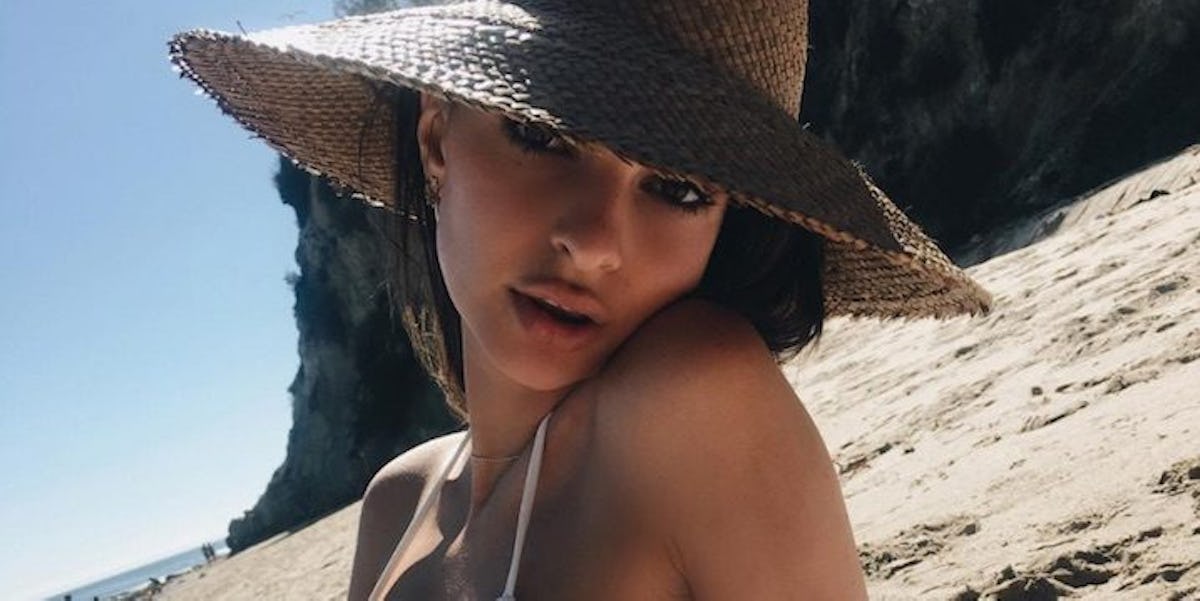 Emily Ratajkowski Shows Off Major Sideboob In Sexual Instagram Video At Beach
Emily Ratajkowski is the queen of sideboob, underboob, bare boob and topboob. 
Anything that has to do with breasts, Em-Rat is ALL about it.
The 25-year-old model recently took a trip to the beach and showed off some major sideboob while soaking up the sun.
She posted some gorgeous shots to Instagram of her sitting in the sand wearing a white bikini and hat.
Check out that boobage, ladies and gents. I aspire to one day have a boob line as dark and defined as this.
Emily Ratajkowski gave us the full documented experience. She posted pictures and videos all over Instagram, Snapchat, Tumblr, AIM, Myspace... literally anywhere you can think of.
The star also showed off her bare butt in a video on her Instagram story.
She first added this deep, emotional pic of her looking down at her own body, probably in awe over how ripped she is.
Then she posted a video of her twirling around so we could get a nice look at that juicy BOOOTYYYYYY.
Too much? Noted.
This isn't the first or second or even third time Emily Ratajkowski has shown off her awesome bod.
The model isn't afraid to bare it all on camera. I mean, remember when she took a topless selfie with Kim Kardashian?
Good times! Girl's a legend.
Emily actually opened up about why she posts such sexy photos on Twitter and Instagram.
The model recently told InStyle,
I used Twitter to reinforce an idea that I've believed in forever, which is that it's up to me to choose when and how I want to share my sexuality.
She continued,
The main criticism that I get is 'Aren't you just conforming to a patriarchal standard of beauty?' …Well, this is just the body I was given. I didn't do anything to it — it's just my body. But even if I had altered it, that would be fine too.
PREACH, MAMA, PREACH!
Emily R. is one badass feminist, that's all I'm sayin'.
Citations: Life's a beach! Emily Ratajkowski spills out of skimpy white bikini as she sunbathes to recover from Paris Fashion Week (DailyMail.com)