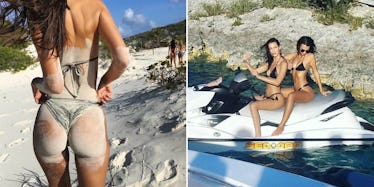 Bella Hadid And Emily Ratajkowski's Beach Vacation Is Way Sexier Than Yours
Instagram
Uh, good thing I didn't go to the Bahamas this weekend. It looks like every hot woman on the planet was there, and I look like a baked potato.
If you want to feel bad about yourself, it's time to look at sexy pics of Bella Hadid and Emily Ratajkowski gettin' nakey on vacation together!
Yes Santa, I did ask for poor self-esteem this Christmas. Thank you so much — dreams really do come true!
Bella Hadid and Emily Ratajkowski seemed to have an awesome time jet skiing and soaking up the sun.
I'ma just say, it takes a lot of confidence to feel good in a bikini during the winter. This is hibernation season, bitches. My leg hair is 3-feet long.
A bunch of other models were there, like Alessandra Ambrosio, Elsa Hosk and Hailey Baldwin ... but, no offense ladies, this is BEMILY TIME — the new BFF name I just gave to Bella and Emily.
CHECK THEM OUT ON THAT JET SKI! They are so in sync, their faces are even pointed the same direction.
Whatchu ladies lookin' at? A bird? Someone got some Taco Bell on that island?
OH MAH GAWDDDDD. Look at those glistening abs. It looks like someone rolled a stick of butter on them. I'ma cook you girls up for breakfast.
Too far? OK.
Bella Hadid then had "Bella Time." During "Bella Time," Bella stands alone on the beach, hiding from the world behind a palm tree.
No one is with her... except a mysterious photographer who is seemingly only there to take pics of her looking sad.
Here's a close-up of "Bella Time."
Sexy tip of the day: Next time you go to the beach, don't go in the water, just squat next to it. People will think you're peeing in the sand, but JOKE'S ON THEM — you're modeling.
Oops.
Emily Ratajkowski had some fun by herself, too. "Emily Time" means taking a lot of selfies in scenic places.
LIKE THIS: Bow chicka wow wow. Check out that lip gloss.
AND THIS. Check out that cool plant in the background. Great shot!
Bella and Emily, maybe I'll join you on vacation next winter. You bring the butter, I'll bring the potato.
Citations: Emily Ratajkowski And Bella Hadid Vacation (DailyMail.com)