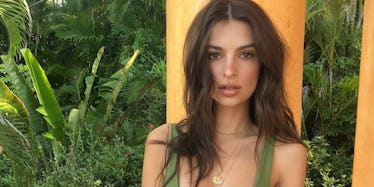 Emily Ratajkowski Posts Pic Completely Naked On A Beach And We're Speechless
Instagram
If you follow Emily Ratajkowski on Instagram, you're well aware of her generosity when it comes to blessing the world with sexy, seductive photos of herself we probably don't deserve.
If you don't follow the 25-year-old model on Instagram, you're doing yourself a massive disservice. I mean, why on earth would you intentionally want to prevent EmRata's naked bathtub selfies from appearing on your feed?!
Do yourself a favor, and hit the "follow" button if you haven't already.
Speaking of Emily being naked, the model took to Instagram on Sunday to share a breathtaking nude photo of her lying on a beach in Mexico. If you asked me what I think about it, I'd tell you I think she does not believe in real clothes.
Bikinis? Sure. "Real clothes?" Definitely not.
While vacationing in Mexico this weekend, model Emily Ratajkowski posed completely naked for an Instagram photo.
In case you were wondering what she looks like with clothes on, here's another photo she shared Sunday morning.
When you're this comfortable in your own skin, you have to expect there to be a flock of haters looking to bring you down, right? Right.
In an interview with InStyle, Emily Ratajkowski opens up about her haters and the criticism she's faced, simply for being herself and supporting feminism.
The 25-year-old explained,
The main criticism I get is 'Aren't you just conforming to a patriarchal standard of beauty?' Well, this is just the body I was given. I didn't do anything to it— it's just my body. But even if I had altered it, that would be fine too.
Something tells me all of their critiquing is just disguised jealousy!
Do you even know how difficult it is to rack up over 500,000 likes on a single photo in under an hour?!
Shit, I'd be mad, too (if I weren't mesmerized).
Citations: Sun's Out, Buns Out! Emily Ratajkowski Goes Completely Nude in Sexy Snap from Her Mexican Vacation (People)