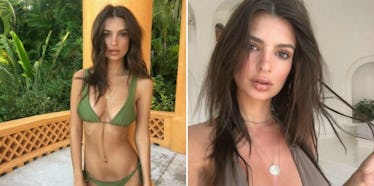 Emily Ratajkowski's Sexy Bikini Photos Prove She's Having A Lit Spring Break
Instagram
Emily Ratajkowski is out here, y'all.
By the looks of it — yes, I've been looking quite a bit — the 25-year-old model and actress has been enjoying quite the spring break vacation in warm, sunny Mexico.
And, much to the delight of her roughly 12 million Instagram followers, she's been sharing quite a few sexy bikini photos on social media.
If you'll recall, Emily Ratajkowski shot to fame in 2013 after making a completely nude appearance in the music video for Robing Thicke's "Blurred Lines."
Clearly, the 25-year-old is still riding that wave at its peak. Speaking of waves, if you enjoyed the above video, you're going to love the rest of the sexy bikini pics Ratajkowski posted from her Mexican beach vacation.
Here's Ratajkowski taking a selfie while rocking a sexy black bikini and a very stylish hat.
During one of her days in Mexico, the 25-year-old goddess shared a photo of herself in an olive-colored bikini.
Naturally, Emily Ratajkowski got a little sunburned during her Mexican getaway, but she managed to look amazing in this photo nonetheless.
And what's a trip to Mexico without posting an Instagram photo of yourself with a can of Modelo on the beach? Honestly, this is the greatest free advertising campaign Modelo ever could've dreamed of.
You know how folks talk about saving the best for last? Well, make sure there aren't any co-workers behind you...
You're welcome.
It appears Ratajkowski also took some time to post about a DKNY billboard while on vacation.
Hey, it can't be all play and no work, right?
Lest you think it's all fun and games for the 25-year-old when it comes to posting on social media, though, don't forget about her participation as an activist for human rights.
Back in January, Ratajkowski posted a photo of herself holding up a sign at the 2017 Women's March.
Speaking on some of the criticism she's received for being an outspoken activist for women's rights, the model and actress said,
The main criticism I get is 'Aren't you just conforming to a patriarchal standard of beauty?' Well, this is just the body I was given. I didn't do anything to it — it's just my body. But even if I had altered it, that would be fine too.
Keep fighting the good fight, Em — and feel free to keep posting bikini pics, too!
Citations: 'Happy place': Emily Ratajkowski flashes her eye-popping cleavage in bandeau bikini as she continues blissful Mexican break (MailOnline), emrata (Instagram)