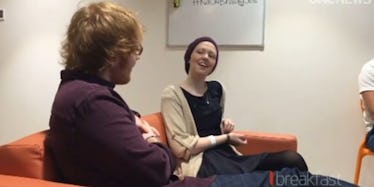 Ed Sheeran Proves He's The Best By Visiting A Fan Too Sick To See His Show (Video)
Ed Sheeran continues to be the nicest guy in show business. This time, the British crooner visited a sick fan in the hospital because she was unable to attend a concert of his.
Jess Wright, 20, had her birthday party in a hospital in Auckland, New Zealand, but Sheeran showed up and made the day extra special.
Wright was diagnosed with leukemia a mere two weeks after buying tickets to a Sheeran concert. Thus, she was unable to make it to the show.
However, Wright's friends helped spread the word about her plight on social media, and Sheeran heard their call. He hung out in the hospital with Jess and her girlfriends. It looks as if fun was had by all.
Check out the video of the heartwarming encounter above.
Citations: Ed Sheeran Visited A Fan In Hospital After They Couldnt Make It To His Concert (BuzzFeed)