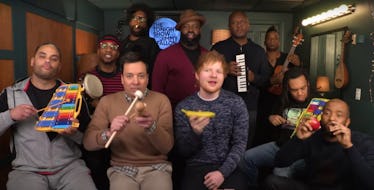 Ed Sheeran Uses Banana To Sing Acoustic Version Of 'Shape Of You' In Cute Video
YouTube
Fun Fact: Ed Sheeran can play the hell out of the shaky banana.
Jimmy Fallon is the king of song covers because he has actual access to the artists who make the originals.
He isn't in some dads-only garage cover band that only plays songs off Born in the USA.
If Jimmy wants to cover "Born in the USA," he does it the right way and gets The Roots some classroom instruments, calls CLOSE PERSONAL FRIEND Bruce Springsteen over to "The Tonight Show" stage and then does a professional and moving child instrument version of the song.
(No, he hasn't done this yet. Yes, it would be amazing if he did.)
Ed Sheeran made his way to Jimmy Fallon's classroom orchestra studio last night to do a cover of "Shape of You," and I'm not gonna lie, it's a lot better than I thought it would be.
Is this actually better than the original?
I said it above and I'll say it again: Ed Sheeran can play a real meannnn shaky banana maraca thing.
I'll even go on record saying he's probably one of the top shaky banana maraca players to come out of the UK in recent memory.
This is far from the first time Jimmy Fallon has put together a song cover that could potentially be viewed as better than the original.
Back in 2015, Jimmy collaborated with Adele to make this cover of "Hello," one that really resonates with depressed kindergarten students going through a breakup.
Later he famously brought Metallica on to do an angsty child version of "Enter Sandman."
I'm going to put this out there: The Grammy Awards should have two sections, the first being the regular, boring old Grammys and the second being the exact same Grammys but all the music is The Roots playing kids' instruments.
Someone make this happen.