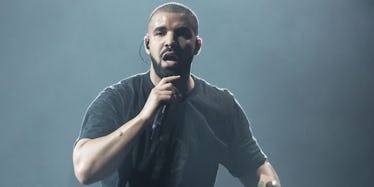 Drake Slams 'Fake Media Story' Accusing Him Of Forcing A Fan To Remove Hijab
REX/ Shutterstock
In a statement on Instagram on Friday night, Drake lashed back at accusations saying he forced a Muslim fan to remove her hijab at one of his concerts.
The "Hotline Bling" rapper was apparently the target of a "fake media story" that claimed he told a woman at his O2 show in London to take off her hijab, when in reality, he says he suggested she take off her winter scarf.
Once the story surfaced, disgusted fans took to Twitter to express their outrage.
After hearing the rumors, Drake cleared the air between him and his fans with an Instagram post that described what actually happened, claiming the fake news was "devastating."
In the beginning of the post, Drake assured his fans he always ends concerts with "unity and love," and said he was devastated after being accused of disrespecting Muslims.
He acknowledged the exact moment the fake news story was born, writing,
At my show in the 02 in London I was talking to 4 women one of whom was wearing a jacket and a winter scarf, I made a comment about taking off the scarf because I enjoy friendly banter with the fans.
So, no -- he wasn't telling a Muslim fan to take her hijab off.
The wholehearted rapper continued his statement and restated the fact he'd never disrespect someone like that.
He wrote,
I am well aware of what a hijab is and I would never make a disrespectful comment like that in my life towards someone who is wearing one. I am proud that my closest friends and fans come from all different religions and races.
We believe you, Drake.
I mean, who wouldn't believe him?! Drake's way too sweet for the rumors to be true, and I don't think his conscious could handle the guilt if the story was factual.
He ended his statement on a positive note, suggesting whoever started the rumor should educate themselves, writing,
Perhaps whoever made up this story should spend more time learning about other cultures and less time trying to divide us.
Mic drop.