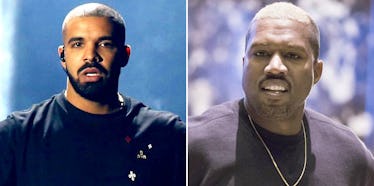 Drake Has No Idea What Kanye Is 'Referring To Half The Time' After Tour Rant
REX/Shutterstock
It's been months since Kanye West's heated rant during his tour.
As a matter of fact, it's been so long, most people figured Drake would never respond to West calling him out. If you were one of those people like me, you thought wrong.
The 30-year-old Toronto native sat down for a new interview with DJ Semtex. During the interview, Drake covered everything from the early bits of his music career to his popular feud with Philadelphia rapper Meek Mill.
One of the most interesting parts of the interview was perhaps when Drake spoke about Kanye West. For months, we've been forced to wonder whether or not these two rappers are on cordial terms with each other.
If you forgot what Kanye West said about Drake and DJ Khaled during his heated rant in Sacremento, check out this clip.
When asked about the confusing comments West made about him in November, Drake finally responded, saying,
I think everybody has their own little things going on, I'm not really sure what he's referring to half the time, as in the same breath, I went from being… like working on a project with him, to him sort of publicly shitting on me and DJ Khaled for being on the radio too much.
The 30-year-old rapper went on to admit he has no idea what Kanye might have been trying to say.
He says he accepts how he feels about the fact his single "For Free" was one of the most played songs on the radio, but he doesn't respect his approach.
Ouch!
But yeah I'm not really sure, everybody's got their own thing going on. Again me when I hear that, I just distance myself from it. You know, all right if that's what it is I don't really even understand the point you're trying to make, but whatever it is that you're going through, I accept it, I don't respect it at all.
Finally, Drake ended his response to Kanye, concluding,
I feel like me and Khaled are just good people, I'm not sure why we're the target of your choice that you made that night.
Here's Drake's full interview with DJ Semtex on OVO Radio.
Don't worry, Drizzy. Kanye has only just begun to confuse the world. Remember the time he expressed his support for President Trump before suddenly popping up alongside him after the election?
Remember when he randomly deleted the countless tweets about his photo op with Trump earlier this month? Confusing is an understatement!
Citations: Drake Slams Kanye West In Long-Standing Feud: 'I'm Not Really Sure What He's Referring To Half The Time' (Perez Hilton)