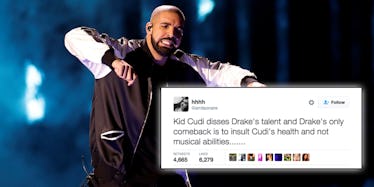 Drake Dissed Kid Cudi By Going After His Mental Health And Twitter Is Lighting Up
REUTERS/Twitter
The gloves have come off, and it looks like Drake just hit Kid Cudi right below the belt.
Monday morning, Twitter started blowing up after Drake appeared to diss and savagely drag Kid Cudi in the lyrics for his new song, "Two Birds, One Stone."
In September, Cudi reportedly entered rehab because of mental health issues. He told his fans,
I checked myself into rehab for depression and suicidal urges.
Now, Drake appears to have called Kid Cudi out over those personal issues, making light of a very serious problem.
Damn, fuck fuccboi @Drake for demeaning Kid Cudi's longtime mental health struggles. It's more than that, Aubrey pic.twitter.com/sx7rOMFZHY — justin lew block (@JBlock49) October 24, 2016
In his new track, Drake says,
You were the man on the moon, now you go through your phases. Still never been on hiatus. You stay xan and perked up so when reality set in you don't gotta face it.
Damn, Drake.
As you might imagine, there are a lot of people who are pretty upset with Drake right now.
There's already a stigma that exists around the issues of mental health, and there are clearly those who feel Drake has only made it harder for folks who face similar issues.
good morning everyone except Drake for mocking Kid Cudi because of his depression pic.twitter.com/Lcezpu5YzF — c (@chuuzus) October 24, 2016
Yeah, so as you can see, fans are more than a little upset over Drake's latest track. I understand the concept of rap beef, but I guess you have to really ask yourself if anything is off limits when it comes to making music.
Is it wrong to go after someone with a disease? At first glance, I think it absolutely is, but I think we might be surprised to discover how many artists would've done the exact same thing as Drake given the same platform and similar ammunition.
In any event, I really hope Drake's track doesn't prevent others with mental health issues from coming forward and seeking help.
Citations: justin lew block (Twitter), drake kid cudi (Twitter)