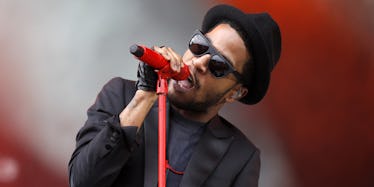 Kid Cudi Reveals He's In Rehab After 'Suicidal Urges' In Emotional Letter
REUTERS
With an album on the way, Kid Cudi is stepping out of the spotlight to focus on his mental and emotional wellbeing.
Kid Cudi, aka Scott Mescudi, issued an open letter via Facebook late Tuesday evening informing fans he'd checked himself into rehab for "depression and suicidal urges."
In the post, Mescudi admitted feeling "ashamed" of his struggles and "nervous" to address them.
He explained,
I am not at peace. I haven't been since you've known me… I simply am a damaged human swimming in a pool of emotions everyday of my life… Idk what peace feels like. Idk how to relax. My anxiety and depression have ruled my life for as long as I can remember and I never leave the house because of it. I cant make new friends because of it. I don't trust anyone because of it and Im tired of being held back in my life.
The 32-year-old's moody brand of hip-hop has long addressed themes of depression, loneliness, paranoia and anxiety.
Songs like "Soundtrack 2 My Life" and "Down & Out" introduced Mescudi's earliest fans to these internal conflicts.
In his post, the artist declared his commitment to self-care and recovery. He told followers,
I deserve to have peace. I deserve to be happy and smiling. Why not me? I guess I give so much of myself to others I forgot that I need to show myself some love too. I think I never really knew how. I'm scared, I'm sad, I feel like I let a lot of people down and again, Im sorry. It's time I fix me… Ill be back, stronger, better. Reborn.
Mescudi also promised his latest album would still be released as expected as the rapper "wanted to square away all the business" before committing himself fully to recovery.
Fans flooded the comments section with messages of support, many of them citing Mescudi's music as a source of strength in their own battles with depression and anxiety.
Commenters reached out to tell Mescudi, "you saved my life," "you are loved & admired," "your transparency is going to really help someone," "we all believe in you" and "don't be ashamed."
Rapper Travis Scott and Hot 97's Scottie Beam tweeted their support.
When Mescudi returns, his fans and contemporaries will be thrilled to have him back. Until then, everyone is rooting for his rehabilitation.
Citations: Kid Cudi Checks Into Rehab for 'Depression and Suicidal Urges,' Tells Fans in Emotional Open Letter: 'I Feel So Ashamed' (US Weekly)