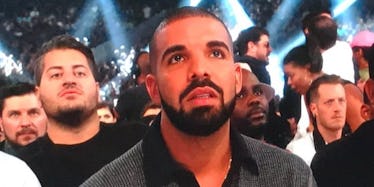 Drake Was Literally The Most Miserable Human At The 2017 Billboard Music Awards
ABC
Drake was at the 2017 Billboard Music Awards, but according to the videos, it looked like he'd rather be somewhere else.
The Views rapper is getting a lot of attention on Twitter and Instagram for the hilarious and straight-up miserable faces he made during the BBMAs.
First, fans noticed he looked, uh, not too happy when Nicki Minaj opened the night with a medley performance.
While the 34-year-old rapper took the stage with Jason Derulo, Lil Wayne and David Guetta, Drake looked pretty damn bored.
I didn't see a yawn or anything, but just look at his facial expressions. Something was a little off... and I'm not the only one who thinks so! Twitter is lighting up.
Shortly after, host Vanessa Hudgens decided to rap a verse from "Monster" -- even though no one told her to -- and it was awkward AF.
While she was spitting rhymes, the camera turned to Drake, and his reaction was everything. What do you guys think he was thinking about in this exact moment? Where the nearest exit is? What time this show is over?
He definitely hates every second of it. LOLOLOLOL.
Fans seriously couldn't stop talking about Drake's epic reaction. As you can see, he was clearly the MVP of the night.
Drake's sad face might be the new meme of 2017. I'M CALLING IT NOW, PEOPLE. YOU'RE GONNA SEE THIS FACE EVERYWHERE.
Maybe Drake has plans, you guys. Let's not judge him too much. Maybe there's going to be a sick after-party, and he's just super excited to go??? I'm giving him the benefit of the doubt, here.
Welp, the 2017 Billboard Music Awards isn't over yet, so there's plenty of time for other stars to take Drake's throne as the best reaction face of all time.
LET'S PRAY SOMETHING CRAZY HAPPENS! I live for the drama.