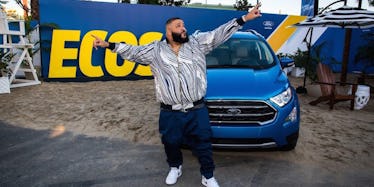 DJ Khaled's Key To The Taylor Swift And Drake Rumors: 'Mind My Own Business'
Ford
Let DJ Khaled be your spiritual sherpa through these awkwardly terrible times.
If 2016 was an awful year, November 2016 was the dark black vortex at the center where all joy and happiness went to die.
Trump was elected president, Facebook became a browseable suck-hole and Harambe is still very dead. It's times like this that make it impossible to achieve any semblance of positivity.
Thankfully, the gods have gifted us with a bright, shiny, positive beacon of hope living in Miami and killing it daily on Snapchat.
I'm talking, of course, about DJ Khaled.
I had a chance to sit down with the music icon at an event he was hosting with Ford. We got to talk about life, his new baby, the marketing genius behind unveiling a car through Snapchat and his upcoming book.
Full disclosure: DJ Khaled is the king of rambling. I had no idea what he was talking about half the time but was weirdly never lost when he was speaking.
It was like listening to the Dali Lama talk in another language. It's best to put on some ocean sounds while you read this to get the full experience.
How do you stay positive in such a difficult political and cultural environment?
When you have life, [it's] the most graceful, amazing thing to happen. When you have life, you can weather any storm. You're breathing. You have life. Some people out there don't have life. Embrace life. You have life. There's a lot things going on out there. We have life. That's what's beautiful… can I get some fries?
OH! By the way, I should mention he was eating waffle fries while we were talking. So if you're looking for the "Stars Are Just Like Us" moment in this interview, there you go. DJ Khaled likes Chick-fil-A.
As someone who identifies as Muslim, how do you feel about a Trump presidency?
I represent love. That's what I represent. I try to just focus on the love and my family. That's what I'm focussed on every single day. God is the greatest. So at the end of the day and beginning of the day, I thank God. I pray everyday. I make sure that my family is OK. I make sure my son is all right. That's what I represent: love. You know what I mean?
Congratulation on the birth of your son, how does it feel being a father?
Biggest blessing ever. My son is two weeks old today. The minute he came in my arms and looked at me it changed my life. Literally changed my life. When I say changed my life, I mean he showed me love I thought… I know… the word love, there is no way to describe this love. It's so powerful. Do you have kids?
No.
Unbelievable. I suggest you have some. You're going to be like 'I'm soo happy to be a father.' It's that feeling of love. No more worrying a cent about yourself. I'm not saying you're supposed to but it's a new love. You move different you think different. It's a beautiful feeling what I'm saying.
You work with Drake a lot. Can you speak at all about the rumors he's been dating Taylor Swift?
I have no clue and I'll give you a key: Mind my own business.
Fair enough. What about the rumors Taylor's new album will have a rap element?
I seen that. Hey man, good luck. That's beautiful that you want to expand your music and do different things. Music is so beautiful and powerful. I love all types of music myself...I listen to so much, I listen to a lot of reggae. Obviously I listen to hip-hop, that's what I make. I listen to soul. I love jazz. I love all types of music. I think music isn't just a genre or sound. If it sounds good and makes you feel good it's a beautiful thing.
Tell me a little about your new book.
You're going to get the keys from my perspective of my journey, my success and my trials and tribulations and me weathering storms. You see Khaled now but now you gonna get the story. You gonna also get keys. If you wanna take the keys, that's on you but these are the keys I know are real.
How did it feel actually holding the hard copy of your  book?
It's amazing because I always said I was going to write a book one day and I actually did. To have it is a major accomplishment for me.
How did the original version you thought you'd write differ from the version you actually wrote?"
Straight-up raw. I'm really telling you how it is. When you read it you're going to read me because if you know me or like me, you're going to know this is coming from me. You can't write nothing that ain't real. That's real. This is real life stories. This is real mogul talk. Jay Z is in there telling you a story about myself or Ariana Huffington, you know? People that I've seen in my career telling their own stories as well as me telling you about how I started in the garage until where I'm at now. Giving you my keys, you may want to take this advice. I'm really proud of this book.
Any advice for people trying to make it big on Snapchat?
I only put good energy out there. You put good energy out there you get energy back.
Do you have a favorite filter?
I like the one you move to the left one time and it gives a little glare. I don't use the other stuff.
How do you feel about unveiling Ford's car on Snapchat?
History is being made today because I'm unveiling it on Snapchat… The car is nice and small but big guys like us can fit in there no problem and survive. The new catchphrase is "Hear My Eco"  because you want your greatness to eco throughout the world.
Any last words for overcoming struggles?
Have faith in God. Stay focused. The key is to stay away from they. Don't fall for the trap. Stay focused. It's about staying focused but at the same time God is the greatest, pray it up. Stay positive but stay focused. Sometimes things can distract you and you don't want to be distracted on the journey to that mountain top.
Long story short: Listen to Khaled and your life will be that much more un un un un unbelievable.