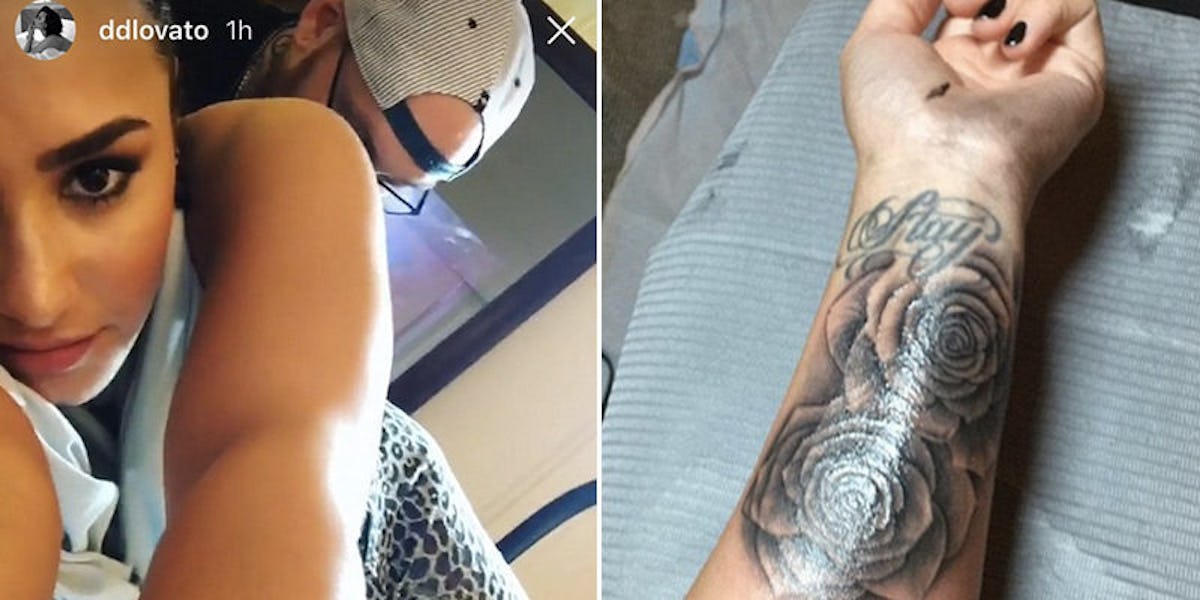 Demi Lovato Got A New Tattoo And It Literally Covers Half Her Arm
Snapchat
Demi Lovato is getting inked up before summer ends and adding a new tattoo to her collection.
The "Confident" singer posted Snapchats the other day of her getting some new art at a tattoo parlor.
According to the pics and vids, it looks like Demi got a few flowers on her arm and a ~mysterious~ tat on her back. HMMM, WHAT COULD IT BE?
She played around with some emojis while artist Bang Bang did his thing.
The singer already has about 14 tattoos, but it looks like she's addicted to getting inked.
Demi Lovato revealed her beautiful new arm sleeve but shared nothing about the ink on her back. TELL US DEMI. GIVE US A HINT.
Could it perhaps be something about her ex Wilmer Valderrama? The two called it quits in June, and she posted this cryptic message on Twitter just the other day...
INTERESTING. Wilmer is now dating his ex Minka Kelly, so that probably doesn't settle well with Demi. WHATEVER. Demi don't need no man.
If you wanna watch Demi's full Snapchat story, check out the video above. After that, I suggest you check out Luke's Instagram because there's more where this came from.
Praise be the lord.
Citations: Demi Lovato Tattoo (Daily Mail)