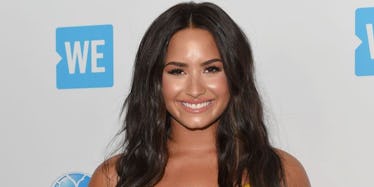 Demi Lovato Singing Paramore's "Misery Business" Will Take You Right Back To 2007
Axelle/Bauer-Griffin/Getty Images
"I'M IN THE BUSINESS OF MISERY, LET'S TAKE IT FROM THE TOP."
Twenty bucks says you just sang that line in your head while reading it. Yeahhhhh, you did. It's 'cause "Misery Business" is one of the best songs of all time, and that's science.
But I didn't realize how much I needed Demi Lovato singing it a cappella until this very moment. GOD, IT FEELS SO GOOD.
Demi was set to DJ at LA's Emo Nite — a recurring event dedicated to playing the emo classics from our adolescence — on June 7 when the sound went out in the venue.
But that was no problem, seeing as Demi doesn't need to be a DJ when she has pipes that could blow a roof off when she belts.
While the Emo Nite crew attempted to fix the sound, Demi took the mic and led the massive crowd in an a cappella sing-along to Paramore's "Misery Business."
And yes, it was as amazing as it sounds.
Halfway through the song, Demi goes, "Ready? We're gonna sing it again... We're gonna f*cking rock this sh*t."
I'm done. End me, Lovato. End me.
Emo Nite started back in 2014 as an emo-themed bar party set up by Emo Nite founders Barbara Szabo, T.J. Petracca, and Morgan Freed. In a 2015 interview with Rolling Stone, Petracca said,
We made a Facebook event, and all of a sudden, 500 people showed up. We did another one at [Echo Park dive bar] the Short Stop, and the same thing happened, but there were twice as many people trying to get in.
Blink-182's bassist/co-lead singer Mark Hoppus was the DJ at the third event, and celebrity musicians have been brought in to DJ ever since. At the one-year anniversary of the first-ever Emo Nite, members from All Time Low, My Chemical Romance, Fidlar, Sugarcult, and We Are the In Crowd all DJed with Hoppus, and I want to throw up just thinking about how freaking amazing that probably was.
Hoppus told Rolling Stone,
[Emo Night] was the first time I had the experience to see a bunch of people cheering on a DJ as much as they did a band at a live show.
Yeah, it's literally just a party dedicated to playing emo music. Sign me the f*ck up.