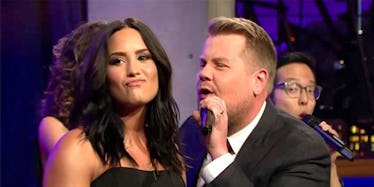 Demi Lovato Battles James Corden In An Epic Sing-Off And It'll Give You Chills
YouTube
THERE CAN ONLY BE ONE DIVA.
Demi Lovato recently made her way onto "The Late Late Show With James Corden" to settle a score. You see, James Corden is easily one of the most diva-esque men on the planet. He's British, he breaks out into choreographed song numbers and clearly knows all of the best Hollywood gossip.
Demi is a diva in her own right, though, and as being a diva IS A COMPETITION, she needed to prove a point. So, her and James got into a classic, old-time diva sing-off and the results were amazing.
Your computer may melt during this.
Demi starts off the battle by absolutely destroying "Rolling in The Deep." It's not as good as Adele — IF WE'RE BEING HONEST — but it's still next-level stuff.
Corden followed it up by singing "River Deep, Mountain High," a song I have never heard before and had to Google the lyrics to find the name of. He then made sure to belt a rendition of "Respect" that would make Aretha proud.
Demi fought back though with "Eye of The Tiger" and then did a mic-drop inducing rendition of "Heart Attack."
It was over after that. Demi took home diva gold after giving the audience an H-Attack.
It's been a bad week of losing competitions to celebrity guests for Corden. The Lovato diva-off comes just days after James had NBA star Steph Curry on the show to challenge him to a game of... err... everything?
I don't know if Corden is the best person to become Curry's life coach...
"All of life's lessons can be taught in an indoor miniature golf course. One man, one ball, one club, one windmill." — James Corden on life and mini-golf.
Maybe take the week off from challenging celebs to the things they are best at, James?
This would be like you entering a "jovial British TV host who hates desks and loves song parodies" competition.
Citations: We hope you're sitting down, because Demi Lovato singing Adele will blow your socks off (Mashable)