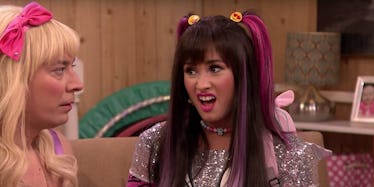 Demi Lovato Makes Out With Ed Sheeran's Face In Hilarious Jimmy Fallon Skit
YouTube
Ew!
Demi Lovato is a big time celebrity which means she gets to do big time celebrity things that the rest of us would never dream of doing.
For instance, last night she got to make out with Ed Sheeran live on "The Tonight Show" while Jimmy Fallon and millions of home viewers watched on.
Granted it wasn't actually Ed Sheeran as much as a picture of his face embroidered on a pillow, and she didn't actually make out with it as much as just rub her face on his face print.
It was on "The Tonight Show," though, and that's still pretty cool!
In the sketch, Demi got to play one of Fallon's now famous "EW!" pre-teen girl characters. Writer A.D. Miles also made an appearance as the dad in the sketch.
Lovato made her appearance on the show just a few days after a nude picture of hers was circulated around the internet.
Page Six reported the photo shows the 24-year-old star smiling while in bed with an unzipped top. It is unclear when exactly the picture was taken or if it was part of a series that would lead to more being released in the future.
This is the second time Lovato has been involved in a nude leak scandal. Back in 2013, a series of personal photos, some with her then-boyfriend Wilmer Valderrama, were released as part of "The Fappening" hack on the iCloud accounts of various celebrities.
After the most recent leak, Lovato took to Twitter to poke a little fun at the situation, claiming it wasn't as big of a deal as people were making it out to be.
Just a lil' cleav, everybody! Nothing to see here!
She then pointed out if you REALLY want to see some Demi nudes you can just search for the ones she took that she willingly released a few years back.
Can we get #Cleavagegameonpoint trending??!!?
The Vanity Fair picture she is talking about is here:
Sorry, I forgot what we were talking about.
Citations: Jimmy Fallon and Demi Lovato Practice Their Kissing With the Help of Hollywood Heartthrobs in "Ew!" (E!)