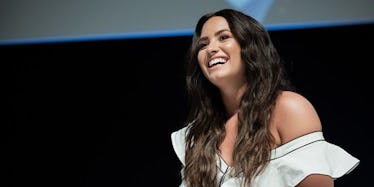 Demi Lovato Proves She's The Queen Of Body Confidence With Crop Top Selfie
Francois G. Durand/ Getty Images
Hey ladies, give your heart a break, because what's wrong with being confident? Yes, those are Demi Lovato lyrics and it's definitely a bit of a stretch but seriously, what's so wrong with being confident? Demi Lovato posted a selfie in a crop top and it's obvious she's the modern day Wonder Woman with confidence like a lioness in the jungle. She's a total badass.
The "Sorry Not Sorry" singer posted a photo of herself on Instagram wearing a white crop top and baggy sweatpants with the caption,
I rarely post pics with my belly button showing because I'm normally insecure about showing my full stomach but I've been working really hard and thanks to @d.leith and his yummy food with @lockhartandleith I've been seeing progress so I thought I'd post this cause I'm feeling myself right now!!
Go, Demi, go! You're inspiring all of us!
Lovato has always been an advocate for body confidence. She's written inspiring (and freakin' catchy) song lyrics, used her voice to empower women of all ages and has publicly discussed her own personal struggles with her body. She's also known for her inspiring AF tweets and IG posts. The world needs more Demis!
Remember this tweet from 2015? Yeah, she's the absolute best.
Who could forget the #nomakeupmonday post? Not me.
Remember when she made us realize thigh gaps DO NOT MATTER? Yes, #EVERYbodyisbeautiful and every body is different.
She shared this stunning photo to 59.8 million followers. Her freckles are always on point. Total boss, total babe and a total super star.
Lovato also laid down the law in a People Magazine interview about body confidence and how to get up when you're feeling down. She said,
When I'm really down, I do a positive self-affirmation. I talk positively to myself in the mirror. As awkward and uncomfortable as it can be, it can be really self-assuring. I also talk to people around me.
Demi, keep up the good work. You're inspiring women around the globe to accept themselves and their bodies and we all need more of that. Lovatics unite.