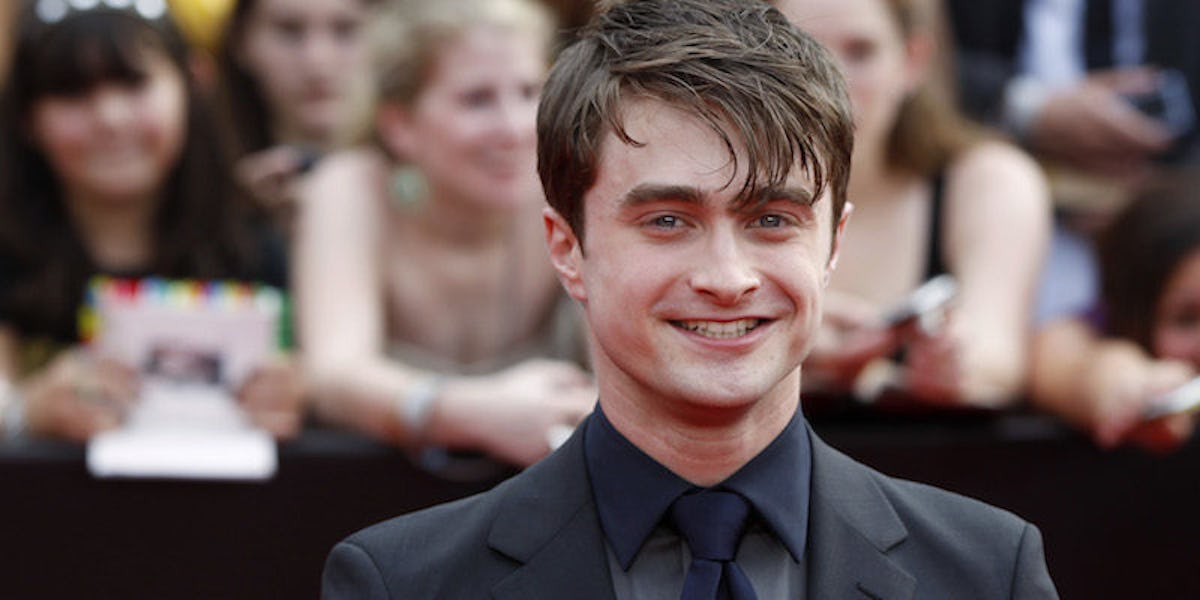 Daniel Radcliffe Won't See 'Cursed Child' Because Of 'Harry Potter' Fans
REUTERS/Lucas Jackson
Daniel Radcliffe, best known for his role as Harry Potter (and that one time he rode a horse naked), has admitted he most likely won't be seeing JK Rowling's play, "Harry Potter and the Cursed Child."
Running at the Palace Theater in London, the play has grabbed the attention of thousands of fans, and tickets are almost impossible to get.
So why has Harry Potter himself declined to see the play?
Radcliffe told BBC,
I just feel it would not be a relaxing evening at the theatre. I assume every night there are 1,000 'Harry Potter' fans in the audience.
Radcliffe hasn't seen the play because he doesn't think he would be able to enjoy it in peace, which would be a completely valid argument if all his co-stars hadn't already seen it.
Here's Rupert Grint with Paul Thornley, aka movie Ron meeting play Ron...
...and Bonnie Wright, or on-screen Ginny Weasley, meeting the play version of Ginny Weasley, Poppy Miller.
Even Neville Longbottom, or Matthew Lewis, made an appearance to show his support.
Then, of course, Emma Watson broke the internet with her heartfelt Facebook post about the play, receiving over half a million likes and almost 20 thousand shares.
The post read,
Yesterday I went to see the Cursed Child. I came in with no idea what to expect and it was AMAZING. Some things about the play were, I think, possibly even more beautiful than the films. Having seen it I felt more connected to Hermione and the stories than I have since 'Deathly Hallows' came out, which was such a gift. Meeting Noma and seeing her on stage was like meeting my older self and have her tell me everything was going to be alright, which as you can imagine was immensely comforting (and emotional)! The cast and crew welcomed me like I was family and Noma was everything I could ever hope she would be. She's wonderful. The music is beautiful… I could go on…
Why can't Radcliffe just use some Polyjuice potion, and go in disguise.
OK, but actually, there must be a real reason behind the chosen one's decision to not see the play because it's bothering everyone.
And when I say everyone, I just mean me. I'm bothered. Go see the play Daniel, and just wear a hoodie or something.
Citations: Daniel Radcliffe admits he still hasn't seen the 'The Cursed Child' (Mashable)