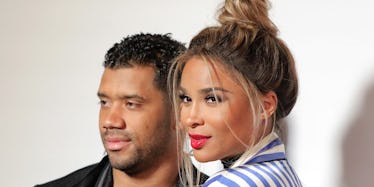 People Think Ciara Revealed The Sex Of Baby Number Two In This Instagram Pic
REX/Shutterstock
It kinda seems like Ciara just revealed the sex of her soon-to-be second child in this Instagram caption.
Either that or Ciara just felt like sharing with the world that her favorite color is blue.
Last week, the 31-year-old singer attended Warner Music Group's Grammy after party in Los Angeles with her husband Russell Wilson while sporting an impressive baby bump.
Ciara wore a tight black dress and a long blue-striped robe that almost looked like pajamas.
But it's not so much the outfit that's interesting here, it's the comment Ciara made on her outfit when she posted a picture to her Instagram.
Ciara wrote,
Blue is one of my favorite colors..
Um... is she saying... what I think she's saying?
Obviously colors don't have gender. But considering society has denoted blue to mean "boy" and pink to mean "girl" for the last century or so, it kind of seems like Ciara is telling us she's about to have a baby boy.
Fans are certainly interpreting the caption that way in the comments.
I'm with these guys: It's (probably) a boy!
Ciara announced she and her husband were expecting their first child together back in October, in an Instagram post on her 31st birthday.
She wrote,
On this special Birthday I received an abundance of love from friends and family.. and I'm excited to Finally share one of the Greatest Gifts of All that God could give...
She end the caption with a baby emoji and a bottle emoji. So we already know Ciara likes to be a little cagey in her Instagram announcements.
Though this is Ciara's first child with Russell Wilson, the singer is already a mom. Her son Future Zahir is now 2 years old, and Ciara recently settled a custody case with her ex and her son's father, rapper Future.
I think the real question here is: At what age will Ciara teach her children to 1, 2 step?