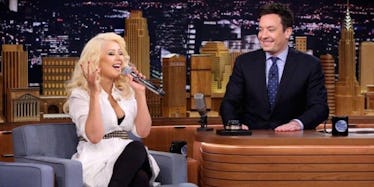 Christina Aguilera's Imitation Of Britney Spears Will Make You Nostalgic (Video)
Ms. "Genie In Bottle" herself, Christina Aguilera, went on "The Tonight Show" yesterday and got roped into a game of musical impressions.
First, Aguilera was tasked with impersonating Cher while singing the Folgers Coffee jingle. That one was pretty great.
But, her real stroke of genius came when doing an impression of her old pal, Britney Spears. Aguilera hit it out of the park when she sang "This Little Piggy" in her best Spears voice.
Her impression is a thing of beauty, and you have to check it out up top.