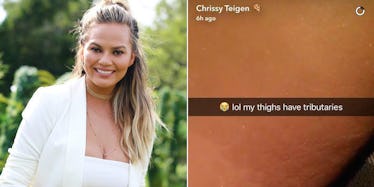 Chrissy Teigen Proves Even Gorgeous Models Get Stretch Marks
REX/Shutterstock/Snapchat
Gorgeous supermodel Chrissy Teigen isn't afraid to show fans the behind the scenes of her everyday life.
The Sports Illustrated model is a big social media fan, so she's constantly sharing photos and thoughts on Twitter, Instagram and Snapchat.
Chrissy doesn't hold back when it comes to speaking her mind or revealing who she truly is, which is what makes her so admirable.
In a recent Snapchat, the model decided to give followers a closeup look at the stretch marks on her legs.
She posted the video with the caption "lol my thighs have tributaries" and added a crying emoji.
Rather than seeing Chrissy Teigen airbrushed on magazine covers, we got a look at her honest, unaltered body.
SHOW OFF THEM LEGS, GIRL. YOU'RE HOT.
This isn't the first time Chrissy let fans check out her stretchies.
She's posted pictures of her legs on social media before, drawing extra attention to the lines of her thighs.
It's pretty cool how open and honest Chrissy is with herself and with her followers. SHE'S HUMAN, YOU GUYS!
I'll post a pic of my stretch marks later today to stand with you girl!
On second thought, ehhh, no one wants to see that. All you, Chrissy. All you.
Citations: Chrissy Teigen Stretch Marks Snapchat (Daily Mail)