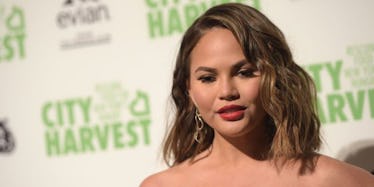 Chrissy Teigen Posed On Snapchat Topless And Her Spray Tan Looks Amazing
Jason Kempin/Getty Images for City Harvest
Chrissy Teigen is a goddess.
She's a goddess of Twitter. She's a goddess of the kitchen. She's a goddess of dressing Luna in a billion different Halloween costumes.
Basically, it's Chrissy's world and we're all just living in it.
On Wednesday night, the Lip Sync Battle co-host got on Snapchat and blessed us by showing off what a good spray tan actually looks like.
First, though, she whipped up some food in the kitchen and -- warning -- you're about to get really hungry.
Ummm, yes. I'll take whatever that is.
Chrissy, maybe you should go ahead and open a restaurant. Or you could just invite me over. Whatever. Up to you.
OK, but then the Cravings cookbook author stepped out of the kitchen... and that's when things got really hot.
Posing topless, Chrissy looked positively gorgeous with her fresh glow from the spray tan. Can I borrow Fiona for my spray tans? (So to recap, I want Chrissy to cook for me and Fiona to give me spray tans.)
At the launch for the BECCA x Chrissy Teigen Glow Face Palette in May, the 31-year-old raved to E! News about spray tan artist Fiona Locke. She also revealed her go-to for when she doesn't have Fiona nearby.
Before [having a] baby, I used to get spray-tans every two or three days. Fiona [Locke] is one of the most fantastic spray-tan artist in Los Angeles. After Luna, I just gave up basically. My color started changing, so then… rose gold saved my life.
Chrissy's referring to the Rose Gold Highlighter in the Glow Face Palette.
Chrissy's confident "I don't give a f*ck" attitude is part of what makes her so incredibly sexy. As far as her daily skincare regimen goes, she told E! News,
I will say I have never, ever in my life have washed my face at nighttime. I shower in the morning, if that. I do the whole iS Clinical sh*t. I will use makeup wipes, and I'll rip off my eyelashes and stuff.
Chrissy Teigen, never change.