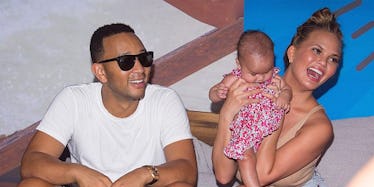 Chrissy Teigen Takes Baby Luna To "Dada's" Show And It'll Melt Your Heart
Michael Stewart
In case you need any extra convincing that Baby Luna is the cutest thing on the face of the Earth, Chrissy Teigen is here to provide.
John Legend's lovely ladies watched in awe of "dada"during a performance of his "Darkness and Light" tour on May 27.
Fortunately for us, Chrissy captured Baby Lu on Instagram in all of her adorable glory. And you know, John was there, too, playing  the piano and such. That's cool, I guess.
While the crowd cheered at John's every stroke, Lu was watching from her seat with a very serious look on her face. She wanted to make sure he didn't miss a note (not that he would, but just in case).
It's probably a good thing she and Chrissy weren't in the front row because they undoubtedly would have stolen the attention away from John with their massive amounts of adorableness.
Don't you wish you had a seat next to these two?
If that wasn't enough to melt your cold heart, Chrissy also provided a backstage shot with Baby Lu and some of dada's performers.
As John's trumpet player entertained the tiny tot, Chrissy held her daughter while wearing a short denim number and some sexy shoes (naturally looking fabulous).
Whenever I have my baby cousin Emma in my arms, my clothes ride up, my deodorant starts to fade, and I end up with something sticky in my hair, so props to Chrissy for making motherhood look so good.
Once again, Lu is paying extra close attention to the music. Perhaps we have a future performer on our hands?
We'd definitely pay the big bucks to see both Legends on tour.
We love Chrissy's family posts, and we also respect her candor about motherhood. She wasn't afraid to admit she suffered from postpartum depression, and she certainly helped pave the way for other women who needed an outlet. She wouldn't let that struggle define her.
Here's to more posts of little Lu!
Citations: Chrissy Teigen (Instagram)