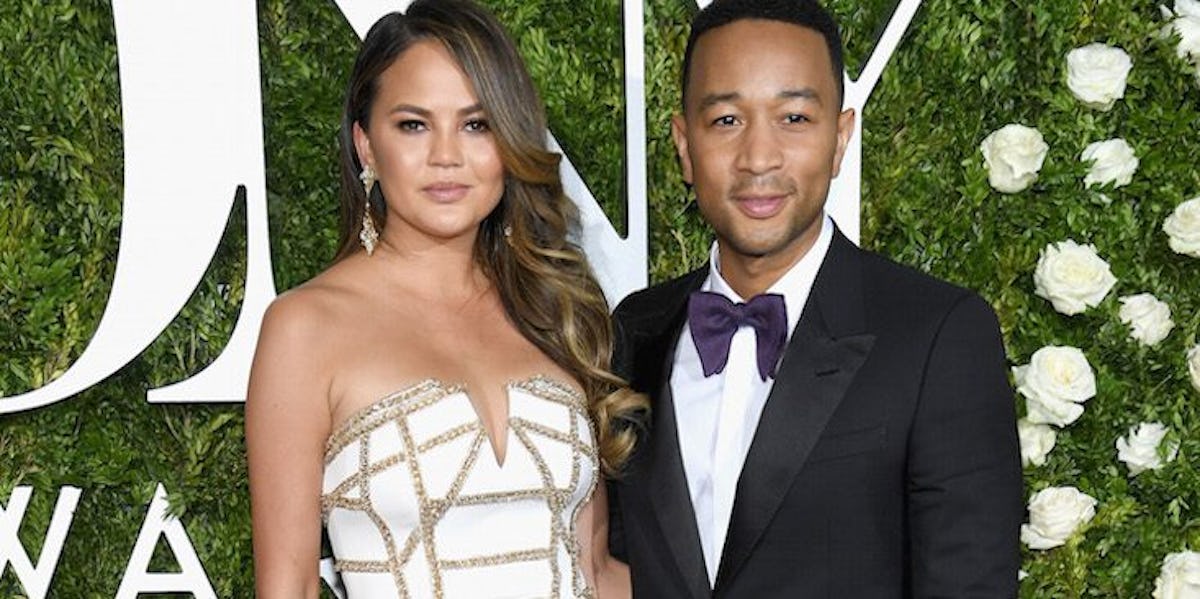 Chrissy Teigen's Halloween Costume Idea With John Legend Is Not What You'd Expect
Dimitrios Kambouris/Getty Images for Tony Awards Productions
With Halloween fast approaching, it's time to get your costume options lined up and start acquiring all the pieces and props you'll need to pull it off. Chrissy Teigen and John Legend's Halloween costume idea sounds like it has the potential to be epic, but first fans had to sort out Teigen's cryptic clue. The model took to Twitter to share some costume inspo with her hubby and she left some fans plenty confused.
Teigen tweeted a pic that at first glance looked like something else. She held two packets that looked a lot like condoms, tweeting: "I found our Halloween costume @johnlegend."
While many would expect the power couple to bring the sexy with their costume choice, no one would expect it to be that sex-related. Like, how does one dress as a condom? Oh, quick Google search on that and it turns out, there is such a costume. You're welcome.
No, those aren't condoms. Others in the know about fast and cheap food quickly were able to identify the packages as ramen noodle seasoning. Cool, so not condoms, but how do you pull off a ramen noodle costume?
She's definitely snagged my interest and other fans weighed in with their thoughts on the noodle-centric costume plan. Do they both wear noodle costumes? Is one the seasoning packet and the other the bowl of noodles? So. Many. Questions.
Here's the tweet that started it all:
Among the confused were tweets such as: "I thought these were condoms" and "Are they not?," with another Twitter user wondering, "Are those condoms or raman flavor packs?" Another asked: "You guys are going as condoms??"
Ramen aficionados knew exactly what Teigen was tweeting, with one writing: "They are seasoning packets for instant noodles. pork flavor. One is the oil seasoning for the soup and the other the powder seasoning," then corrected themselves, adding, "Actually its creamy tom flavor... equally delish as pork."
Mystery solved. And it turns out there are some ramen fans in the Twitterverse, such as one who noted: "I eat this stuff all the time and my bf always says why do you eat like a poor college student." Hey, it's good!
Crafty people of the internet have some ideas, such as this mom who posted a pic of the epic noodle costume she made for her son (well done, mom):
Many fans were all aboard Teigen and Legend's costume idea, with one tweet summing it up perfectly:
Another fan sorted out what each of them should dress as, tweeting: "Wait Chrissy, I just realized these were for the creamy Tom Yum. God I love you. You should be the Tom Yum & John should be the Nam Sai."
Fans in general, once clued in, thought it was a great costume plan, with comments such as: "so you're gonna be ramen? I LOVE IT," "genius," and "this is perfect."
And if the whole noodle costume doesn't pan out, one fan had the perfect suggestion for Legend, who has been pegged as the spitting image of one cartoon character: "He should go as Arthur this year." So much yes.
Honestly, the similarities are undeniable:
Check out some of their past Halloween couple costumes:
Guess we'll have to see what Teigen and Legend choose for this year's costume – will it involve daughter Luna too? Here she is last year, dressed as the most adorable hot dog ever. I'm thinking Teigen and Legend should plan a family-themed costume this Halloween.
Whatever they choose, they always have fun!
Check out the entire Gen Why series and other videos on Facebook and the Bustle app across Apple TV, Roku, and Amazon Fire TV.